If you go into "The Delinquents" expecting a typical heist movie, you will be sorely disappointed with what you find. In fact, it feels almost like the antithesis of the genre. The heist itself is so light and breezy that you can hardly tell it's about to begin, and when it's over you can't believe that's all it took. It's also good to note that by the time it's complete you've barely scratched the surface of this 189-minute journey.
"The Delinquents" follows two employees at a small bank, Morán (Daniel Elías) and Román (Esteban Bigliardi). Tired of his work, Morán steals $650,000, exactly twice as much money as he would make until his retirement. He chooses Román to hide the money (Román gets half of the money for his service) as he serves a prison sentence because, to him, three-and-a-half years until freedom sounds much better than 25 in pure monotony. As Morán says, he just wants to live modestly but freely.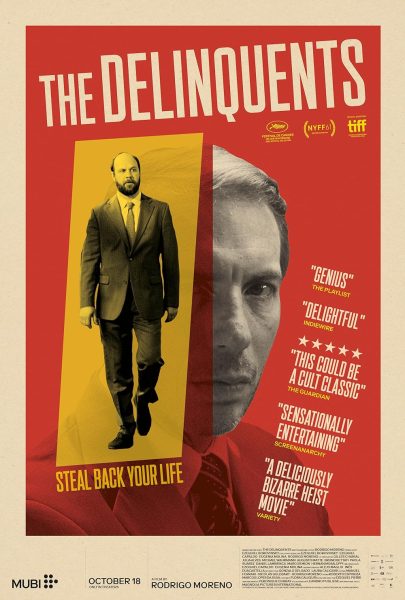 Being a work of slow cinema (or at least pretty close to it), "The Delinquents" is more of an existential journey than a narrative one. Much of the rest of the film is focused on Román as he grapples with what to do with both the money and his life. One segment of the film follows him as he meets a group of people near a forest, and this is where his perspective begins to shift as he finally sees and experiences a life away from his unfulfilling work.
While I can see the runtime and pacing being an issue for some, it worked in favor of the film for me. There's something about the extended lush, beautiful scenes of nature and the exhilarating feeling of love and companionship that makes each subsequent return to the bank even more painful. Is there really a difference between prison and this?
The score in this is incredible. It paired with those gorgeous landscapes helped with the feelings it was trying to portray, and I enjoyed how it would occasionally be revealed to be played by characters in the movie itself.
I can also see this movie being a great rewatch. I feel like there's a lot I missed. Only towards the end did I start to pick up on all of the parallels and intrinsic links between these characters, both in their actions and their names (was fun seeing just how many they could come up with using the same five letters).
The final thing I could see some complaints for—and I was admittedly a little disappointed with it—was the ending. It is somewhat anticlimactic but I feel like the song at the end helps to tie it together. While the movie as a whole is very beautiful and even hopeful, it's also about the tragic impossibility of truly being free in the 21st century.
As a whole, I loved how unconventional "The Delinquents" was. I could never really predict where it was going to go, and the excellent performances and dreamy cinematography put me into a trance that I never snapped out of until the end credits began to roll.