Lynne Nolan retires after 22 years as Dean of Student Activities
Jeremy Zhao, Print Managing Editor & Head News Editor
December 19, 2022
Lynne Nolan, Naperville Central's Dean of Student Activities for the past 22 years, will retire at the end of the semester. During her time at Central, she founded clubs, ran schoolwide traditions and transformed school culture.
"Her work ethic is tremendous," said Darrell Green, campus supervisor and head coach of Central's step team, Dynasty. Green started working with Nolan in 2017. "She was making sure that she can touch as many people as possible in her position."
Nolan worked in the Central science department from 1989 to 1996. After taking a year to travel the world and then working at Neuqua Valley for three years, she returned to Central in 2000, where she became the Dean of Student Activities.
"I was hired to help create the Freshman Mentoring Program, which later became the Link program," Nolan said. "It was a great opportunity for upperclassmen to grow in leadership skills as well as for the freshman to hear from kids who are walking the walk."
Nolan helped to start Dynasty in 2008. As a white woman, she sought to learn more about Step dance, which originated in African American fraternities and sororities.
"She went out to West Aurora, and one of the coaches there taught her everything she knew," Green said. "That to me deserved a lot of respect."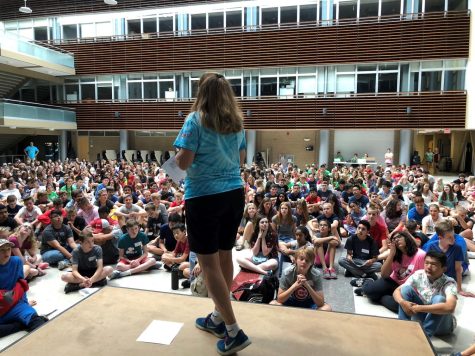 Nolan also coached Central's ultimate frisbee team for 20 years. According to Mikey Williams, the current ultimate frisbee head coach and a player for the team under Nolan, she was "one of the main people to start [frisbee] for the high schools in the area."
As the Dean of Student Activities, Nolan organized school events like Homecoming. She's also coordinated extracurricular events, including chess, journalism and cheer tournaments. One of Nolan's proudest moments was when Central hosted the 2004 IHSA Speech State Finals.
"We had to get special permission to close school a half hour early, and so it had to go to the school board," Nolan said. "We had to have competition rooms completely cleared of every desk, table, file cabinet. When it comes to logistics, we were like Amazon. It all happened and it was phenomenal."
Nolan said she was "super proud" of the modifications made during the COVID-19 pandemic, including the "many versions of graduation" depending on restrictions and weather conditions.
One tangible part of Nolan's legacy is the Central Honor Garden.
"The Honor Garden was a bit of my brainchild," Nolan said. "When I went to high school here, the Honor Garden was four perimeter sidewalks, five bushes and one tree. But, just the idea of we needed a place in a school this big where we could grieve, heal and laugh."
Money for renovations was raised through extracurricular tournaments, class reunions and class gifts.
"It's not part of the job description," Nolan said. "But we needed to have a place where we could be friends together. It's unique to our school."
After retiring, Nolan plans to care for relatives and travel.
"I would like to go to the Galápagos," she said. "I would love to go back to New Zealand. I love North Africa."
Nolan's dedication is clear to other staff members.
"She just wanted to make sure that every event she put through supported Redhawk Nation," Green said. "I think she's done a wonderful job and her shoes will be hard to fill."