Class sizes to increase at Central, nine teachers cut at high schools following decreases in enrollment
District 203 will lose nine full-time equivalent (FTE) high school teachers next year, following "decreases in course enrollment," Superintendent Dan Bridges said at a March 21 board meeting.
At Central, the social studies department will lose more than 10 sections next year and will lose two full-time teachers. The math department will lose five sections, the science department will lose five sections, the CTE department four, the communication arts department will lose two to three sections and the fine arts department will lose one section.
"Whether people are happy is a different question, but this is aligned with course enrollments," said Chala Holland, assistant superintendent for administrative services, at a March 21 board meeting. "We have departments with significantly lower enrollment which would not justify keeping the same FTE."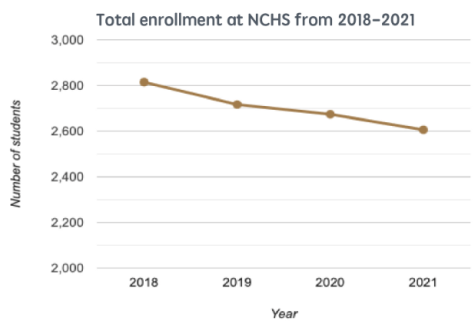 But despite a decrease in overall enrollment, average class sizes for the science, English and social studies departments will increase next year, according to each department's respective chair at Naperville Central.
The average class size for the social studies department will go from 22.8 this year to 24.6 next year, Carrie McFadden, assistant principal for operations at Naperville Central, wrote in an email.
"It is a sharp [change] compared to previous [years]," social studies department chair Dave Ashton said.
The projected average class size of the science department will also increase from last year, according to data from 6th day reports given to Central Times by McFadden.
Classes in the past few years were smaller on average due to COVID-19, McFadden said. 
"Our normal class size can fit 28 students. Well, are we sitting six feet apart or sitting three feet apart?" McFadden said. "Over the last two years we were able to run classes smaller than we normally would."
No department will have an average class size greater than 24.9 next year, according to Holland at a March 21 board meeting.
District 203 Board of Education Policy 6:200-R establishes minimum class size at 15 students. Historical data on the number of students who drop the class will also be taken into account when determining class sizes, McFadden said.
"In our historical data, I had more kids dropping classes," McFadden said. "This year, we had a lot of I'll call on the bubble [in terms of class size]. We ran two sections, and then kids dropped out."
AP European History, which has 16 students signed up right now, will not be offered at Central next year due to lack of enrollment, Ashton said. English Literature will also not be offered next year for the same reason, English department chair Michael Doman said.
"There's a fiscal responsibility to this as well," said Jackie Thornton, assistant principal for curriculum and instruction. "There's a lot of different weighted options in the social studies department for students to choose from, so that's another part of that consideration.
The fine arts department will lose one section each of photography and art, but will gain one section of music theory due to increased enrollment.
"Students vote with their feet, they choose their classes," said Holland at a March 21 board meeting.
As there will be fewer classes to teach next year, 61 District 203 teachers received letters of dismissal, including 12 teachers at Naperville Central, but many will be returning next year, McFadden said.
"Anytime we can't guarantee that a teacher is going to have the same FTE they had the previous year, we have to go through the dismissal process," McFadden said.
A number of academic support sections can be allocated to teachers with fewer than 10 classes a year, the threshold for FTE.
"Sometimes the timing is not perfect, we [have to] figure out the puzzle of, if I give [academic support sections] to this person, then how does this impact things? It's a lot to do in a couple of weeks," McFadden said.
There will also be two new positions in the student services department.
"Our support has not gone away from the high school," Holland said at a March 21 board meeting. "We built in support to address our behavior and discipline needs, to restructure and to provide restorative and transformational support for students."