Frustrated District 203 and neighboring district community members demand full return to in-person learning
Parents and community members representing nine area school districts, including Naperville District 203, held a rally on March 14 demanding the return to five days of full, in-person instruction with lunch, pre-COVID-19 school day schedules, activities and athletics reinstated. The group arrived at the corner of Webster and Douglas in Downtown Naperville at 11:00 a.m., then marched to the Free Speech Pavilion at Rotary Park. There, several individuals including District 203 Board of Education candidates Bill Eagan and Adam Russo spoke to the crowd. Current board member and Naperville City Council candidate Paul Leong and Paul Vallas, former CEO of Chicago Public Schools were also guest speakers.
The rally took place after District 203 Superintendent Dan Bridges announced on Thursday, March 11 that the district would move to a five day per week in-person schedule. Many rally attendees expressed dismay at administrators and current school board members, some of which will be up for re-election on April 6.
Below are photos and videos that Central Times reporters took of the rally:
Amisha Sethi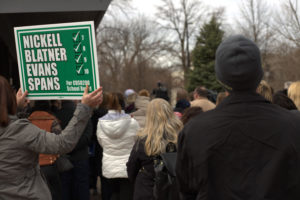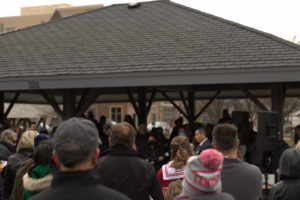 Amisha Sethi
Amisha Sethi