Community members rally to demand reinstatement of in-person learning
Naperville parents, neighboring community activists accuse District 203 of lack of communication, raise concerns of mental health impact on isolated students and sidelined athletes
After roughly two weeks of planning via Facebook, the "Rally to open Naperville schools NOW!" took place Monday night at Rotary Hill, with several hundred in attendance. Organizers Ann Marie Tracy, Jacklyn Cook and several others spoke to the crowd at 6 p.m. before eventually marching to Naperville Central High School around 7:30 p.m., where a District 203 school board meeting was in progress.
Tracy started planning the protest after the first week of online learning in District 203 with her three children in kindergarten, fourth, and sixth grade. Seeing her children struggle to learn created a sense of urgency for change, especially for her two sons with IEPs, or individualized education plans.
"I watched my children not do well with remote learning and become more and more hopeless," Tracy said. "Prior to this I have not been a big advocate for kids with IEPs or anything, but this really hit home."
Tracy's mission was to help her children and other students with learning plans receive a more effective education.
"We're not trying to take away the remote option for parents who want that," Tracy said. "We just want them to start being creative and look at ways that we can get our kids back in the classroom."
Other parents who spoke at the event shared Tracy's frustration, including Kelly Gillenwater, a parent of a Wheaton Warrenville South High School senior with epilepsy.
"I stand before you as a member of a multi-generational family, with my youngest being a senior in high school, and a kindergartener grandchild, both with special education plans," Gillenwater said. "I can tell you that there is no equity in e-learning. There is no equality in e-learning."
Another chief complaint brought up by speakers was the delay of contact fall sports due to new IHSA COVID-19 guidelines. Many speakers argued that the benefits of continuing these sports seasons far outweigh the risks of the virus.
"
I am concerned with the safety of our children, but not from a virus standpoint. I'm much more concerned with mental health."
— Ann Marie Tracy, co-organizer of Rally to Open Naperville Schools NOW!
"The benefits of sports go beyond just learning and playing a game. Math, English, science, those were deemed essential," social worker Adam Russo said in his speech. "Those were deemed things that kids can just learn on a screen. You can't learn leadership, you can't learn time management, you can't learn motivation, you can't learn discipline just by sitting in front of a screen."
Additionally, student athletes from neighboring high schools explained their dependency on school sports seasons for scholarships and recruitment, including Jonathon Rodriguez, captain of Thornton Township's High School varsity soccer team.
"Personally, I come from a very low income community," Rodriguez told the crowd. "I come from Harvey, Illinois. For many of my peers, many of my teammates, classmates, without these scholarships, there's no chance we're gonna be able to continue our careers educationally and athletically."
Mental health was also a major talking point.
"I am concerned with the safety of our children, but not from a virus standpoint," Tracy said. "I'm much more concerned with mental health."
Tracy pointed to the latest statistics from the DuPage County Coroner, which issued a warning that our suicide rate is up 23% over in the first six months of 2020. This data is true of overall suicides, though youth suicides specifically show no notable change.
Will County board member Julie Belkovitz also brought up mental health when speaking to the protesters.
"We know what the consequences are," Belkovitz said. "We've heard the data. The rise in the suicides, the mental health, the drugs. We are not giving our children productive things to do, we're not teaching them, we're not allowing them to be a part of the community, and school is a part of a community."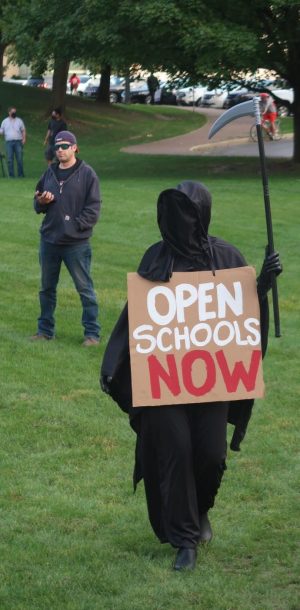 Other speakers saw the rally as more of a political event, expressing dissatisfaction with Illinois Gov. J.B. Pritzker. On multiple occasions, Pritzker was compared with governors from other states who allowed their schools to completely reopen.
"We need some answers out of our government, and we're not getting them," Naperville resident Matt Odom said when speaking to the crowd. "I hope you guys remember that when it comes to election time. He's not doing it."
Anti-Pritzker signs and chants of "Pritzker sucks" followed, the sentiment reappearing several times throughout the hour-long rally.
A key takeaway from the rally was a general frustration and dissatisfaction with a perceived lack of communication from both the district and the state in regard to school reopening plans.
"How many of you have heard the leadership speak directly to any of your children since this started to tell them how they feel about our kids, anyone?" said Catherine Kingsbury, mother of Central juniors Michael and Madeline Kingsbury. "Not a word. Not a word from the leadership of the state. Not a word from the leadership of the city. Not a word from our district to talk directly to our kids."
Once the rally concluded at its Rotary Hill location, several attendees and speakers walked across the street to further express their dissatisfaction with the state of communication to board members and district officials who were gathered in Central's cafeteria for a regularly scheduled board meeting. Several protesters stood up against the glass panels separating the outdoor patio from the cafeteria and began shouting at the individuals who were visible inside.
Cook believes the only way to properly address these issues is the immediate opening of all schools in District 203.
"What we need right now is faith, not fear. We need stimulation, not isolation. We need data, not dishonesty. Facts instead of feelings. Success, not suicides. A community, instead of control."