Modern Activism or Viral Slacktivism?
Commonly thought of as just a platform with too many selfie posts, Instagram may not be getting the credit that it deserves. With around 700 million active monthly users, this popular social media is increasingly being used as a means of social and political activism by its users to bring about real change.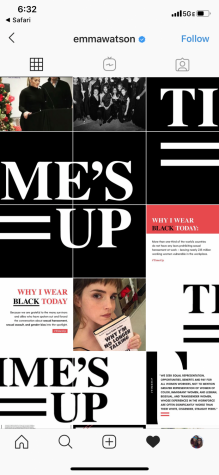 Why is Instagram such an effective medium for activism? Instagram, more than any of its social media competitors, has an emphasis on imagery in posts, making it very effective in terms of catching the eye (and thus, the attention) of its users. Activist groups such as the environmental conservation group 350.org have noticed that emotion-evoking images on this platform are more likely to have high engagement levels and attract support for specific causes than traditional ad campaigns.
In an interview with the Chronicle of Philanthropy, communications director of the organization Jamie Henn explained that they have accordingly adjusted the way they market and spread their message.
"By using images and video, we have been able to convey stories with emotional impact in a very different way," Henn said.
Senior Grace Carlson explained that she is much more likely to use Instagram than other social media because of the visual aspect of it.
"I'm a very visual person, so I think Instagram is easier to use for that kind of thing," she said.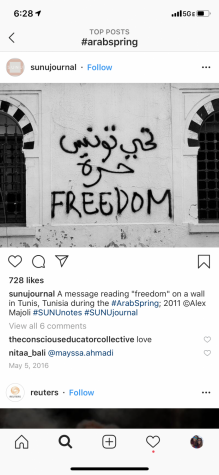 Instagram is also unique in that it allows an unlimited word count for captions, as opposed to Twitter, which only allows for 280 characters. This unlimited word count is particularly useful for activism because it allows users to more easily explain and advocate for causes. A 2018 study by Quintly, a company which specializes in social media analytics, attributes this as a main reason for Instagram being the social media with the most user engagement.
Given the app's high engagement levels with the audience, many organizations and individuals advertise and express their beliefs on Instagram to raise awareness for specific causes. In 2014, the feminine hygiene brand Always launched its #LikeAGirl campaign, empowering young females across the world to embrace doing things like a girl," a phrase that is often used derisively against them. The message was widely shared on all social media, with 1.5 million posts currently under the hashtag on Instagram. After its release, the campaign video became the second most viral video on the internet that year. A 2014 research study by Research Now found that almost 70% of women and 60% of men surveyed had a changed perception of the phrase "like a girl" after watching the campaign video.
"
By using images and video, we have been able to convey stories with emotional impact in a very different way."
— Jamie Henn, director of Chronicle of Philanthropy
Instagram was also used in May 2019 to question the anti-abortion laws that were passed in Alabama. There are currently over 11,000 #AlabamaAbortionBan posts. The increased awareness about the passing of laws also encouraged pro-choice women to share their abortion stories in protest through social media under the hashtag #youknowme, which currently has about 90,000 posts on Instagram.
Recently, there has been a lot of backlash against users who simply like or repost things on their individual social media, commonly referred to as "slacktivism." This is often viewed as lazy activism where no real change is made because no physical actions (such as making donations) are taken. Yet, this increase in awareness has been the driving force of many social and political movements.
The #MeToo movement, for example, was centered around women sharing their stories of sexual assault, and thus raising awareness about how much of an issue sexual assault is in society. The movement completely changed and continues to change societal culture of avoiding talking about/bringing attention to the topic. As women shared their stories, it empowered other women to do the same, with over 2 million posts under the hashtag on Instagram and over 19 million tweets on Twitter. Not only did more women speak out, but more women sought help.
A report from the Rape, Abuse & Incest National (a U.S. crisis hotline) saw a 23% increase in from 2016 to 2017, the year #MeToo started. A study by the U.S. Equal Employment Opportunity Commission investigating the complaints of sexual harassment in the workplace reported visits to their website doubled afte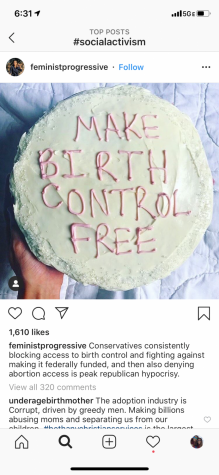 r the hashtag broke out.
The Arab Spring, a movement in which Arabic countries rebelled and overthrew their governments was also a result of attention on social media. Starting in Tunisia, the rebellion gained a lot of social media attention and inspired people in other countries to rebel as well. Eventually, the movement spread across Northern Africa and the Middle East. Phillip Howard, associate professor of communication at the University of Washington and project lead of a 2011 study on the impact of social media on Arab Spring, suggested in an interview with UW News that social media was instrumental in starting a conversation which led people to action.
"People throughout the region were drawn into an extended conversation about social uprising," Howard said. "The success of demands for political change in Egypt and Tunisia led individuals in other countries to pick up the conversation. It helped create discussion across the region."
Junior Rukan Parves explained that she occasionally reposts about social and political issues on her Instagram story, though in her eyes this isn't slacktivism. She believes raising awareness is an action in itself.
"
Though the post I specifically posted wasn't linked to a specific charity to donate to, I think just by posting you are raising awareness about an issue. Eventually, it's going to get to a person that will donate. Posting is sort of like the first step."
— Junior Rukan Parves
"Over the summer I posted about the crisis in Sudan," Parves said. "Though the post I specifically posted wasn't linked to a specific charity to donate to, I think just by posting you are raising awareness about an issue. Eventually it's going to get to a person that will donate. Posting is sort of like the first step."
Though social media can be and has been used quite effectively to raise awareness about specific issues, it has also been used as an effective way to collect donations for specific causes.
The 2019 Global NGO Technology Report states that 71% of nonprofits worldwide believe that social media is an important tool for online fundraising. In fact, according to the 2019 Global Trends in Giving Report, about 27% of online donors say that social media is the communication tool that inspires them most to give.
The one area where Instagram specifically has been less successful than other social media such as Facebook is in terms of the number of direct donations that are made through the app. But it's catching up there, too, by introducing tools to make this easier. As of May of this year, Instagram released a new donation sticker feature. This feature allows eligible nonprofits and individual accounts to directly link donation sites on their Instagram stories, allowing users to make donations without ever leaving the app. With over half a billion users looking at Instagram stories everyday, this new feature is predicted to help accumulate more donations than the media has in the past.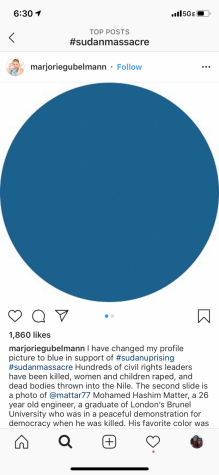 Clearly, Instagram is not just an app full of a bunch of kids posting selfies, as it is commonly made out to be. Instead, the app has provided a unique platform for its users to spread the word about important humanitarian causes and sociopolitical issues, which has had a profound impact on society.
About the Writer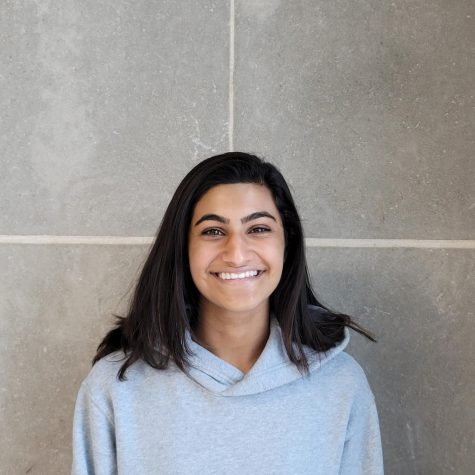 Amisha Sethi, Editor-in-Chief & Community Co-editor
Amisha Sethi is a senior at Naperville Central. When she is not writing for the Central Times she is playing tennis, listening to music, or doing hot yoga. Amisha is not sure of what career she would like to pursue but is excited to discover what the future holds for her.