College Bound: Laddie Skarecky
Hang on for a minute...we're trying to find some more stories you might like.
Senior Laddie Skarecky committed to Valparaiso University for football in January. A brief version of this interview was run in CT's March issue.
Central Times: When did you start playing football?
Laddie Skarecky: Second grade [in the] NYFL.
CT: Did you play any other sports?
LS: Baseball and wrestling.
CT: Why did you choose football over the others?
LS: Transitioning into the baseball season from football was hard because baseball is a lot slower than football. The seasons started to drag on and I lost interest, wrestling was not healthy for football since I would put on weight and strip it down and then some the next 4 months, stunting my growth.
CT: When did you know that you wanted to play college football?
LS: In second grade my father showed me a Michigan vs. Michigan state game and I asked him what it was, he explained that it was "college football" and that it is where the elite of the elite play. From that day in second grade playing in college has been my dream.
CT: When did you realize that going D1 was possible?
LS: Eighth grade. From second to seventh grade it was just a distant dream, but in eighth grade I played for the New Lenox Mustangs. During the season I started to surpass my opponents. At this time I knew that my focus would be on playing D1 ball.
CT: What are you most excited about for playing D1?
LS: Finally living out my dream and competing with the 1 percent of 1 percent. Being able to play another four years at the highest level of competition.
CT: What are you most nervous about for playing D1?
LS: Being able to balance classes and homework along with practice during the week.
CT: Why did you decide on Valpo?
LS: Valpo stuck with me throughout the whole recruiting process. They were constantly checking up on me making sure I knew that they were still highly interested. But what really made me choose Valpo was what they have to offer. Getting a degree from there is exceptional. Football can only last so long so a higher education is very important.
CT: You are playing Central teammate Joe Gannon next year (He is going to be at Dayton). How you do feel about playing Gannon text year?
LS: Joe and I use to play right next to each other. He moved to the D-line junior year. Seeing Joe fulfill his dream as well brings me great joy but since we are on the same side of the ball all we can do cheer for our team and brag about the win to each other.
CT: What has it meant to you to play four years of high school football?
LS: High school football has been the best four years of my life. I have developed lifelong friendships with a lot of guys on the team. Being a Redhawk is something I will take pride with, win or lose I am still a Redhawk through and through.

About the Writer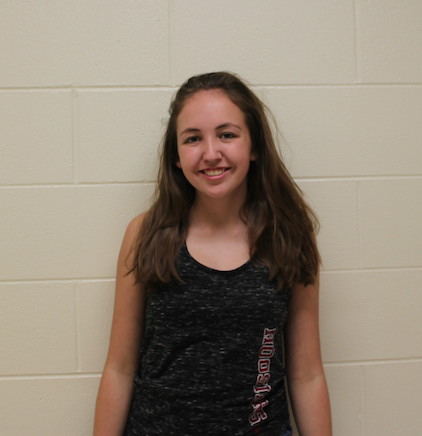 Lexi Haskell, Editor-in-Chief
Lexi Haskell is a Senior with 2016-17 being her third year on the Central Times Editorial Board. Lexi is the 2016-2017 Editor-in-Chief and Sports Columnist....