BREAKING NEWS: Central social studies teachers awarded $100,000 grant for Illinois Global Scholars program
Hang on for a minute...we're trying to find some more stories you might like.
Social studies teachers Seth Brady and Randy Smith were directed to Central's learning commons this morning to discover a small crowd of teachers, students, administrators, elected officials and news media, all gathered to celebrate with members of Farmers Insurance, who presented Brady with a check for $100,000.
The award was for Brady's proposal submitted to the insurance company's Thank America's Teachers Dream Big Teacher Challenge. His proposal to help fund Illinois' recently adopted Global Scholars program was selected as one of 15 national finalists prior to today's announcement that Brady was one of six finalists selected for the grant.
Check back soon for Central Times' full coverage of this event.

About the Photographer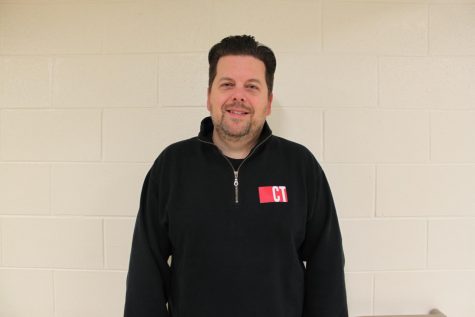 Keith Carlson, Adviser
Mr. Carlson is in his 11th year as the adviser to the Central Times. He was named a Rising Star Award winner in 2013 by the Journalism Education Association and was selected as a 2015 ASNE Reynolds Institute fellow. Carlson holds a Certified Journalism Educator (CJE) certification with JEA. He earned a Bachelor's degree in Writing/Journalism from North Central College in Naperville, Ill. and a Masters degree in Journalism Education from the University of Missouri-Columbia. Carlson has been teaching at Naperville Central High School in the Communication Arts department since 2000. An entertainment and pop culture junkie, you can find Mr. Carlson watching movies, listening to music, and reading books when he's not reading student-written news copy. You might also find him on a local stage performing in a musical theatre production.
"Every human being is a story worth telling."
Contact Information:
[email protected]