Westworld: Dense 'Yeezus' easier to respect than enjoy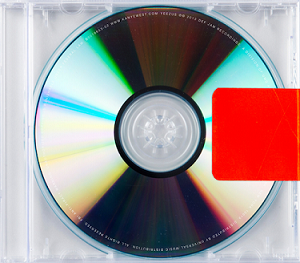 Rating: C
Favorite Tracks: "Black Skinhead," "New Slaves," "I'm In It," "Bound 2"
_________________________
"Yeezus" marks a turning point in the Kanye West discography. In many ways, it is the turning point. Where "808s and Heartbreak" introduced broad thematic ideas (both musically and conceptually) into his work, "Yeezus" asks a simple question: What if we made it… wackier?
To clear confusion, I need to establish something: "Yeezus" the album is very different for me than "Yeezus" the experience.
I do not like "Yeezus" as an experience. I find listening to it to be largely unappealing and borderline headache-inducing at points. It's too abrasive for my soft, tender ears, and when at its softer moments I typically find it to be musically unattractive. This is where the C-tier rating comes from.
However, I absolutely adore "Yeezus" as an album, and it's in this sector that I want to focus this review.
This album, released in 2013, is off the wall. Frankly, it's nearly unhinged at points. It's also Kanye's most dense project. To actually analyze this project track-by-track (which it truly deserves) would lead to a word count that would entirely dwarf my "mega-review" of "My Beautiful Dark Twisted Fantasy." As such, I'm merely going to have to leave it to you to listen to it. You'll see what I mean pretty quick.
"Yeezus" is defined by a few very clear principles, paranoia being paramount among them. Even at its "happiest" moments, something always feels off about this project. Its instrumentation is dotted with desperate screeches, exhausted panting and other vocal snippets that range from being purely strange to actively unsettling. The production on these clips magnifies the effect. It inspires just enough discomfort to create a musical experience truly like no other.
"Black Skinhead" embodies this exactly. Heavy breathing and muted shouts are central to the percussion of the track, though the hard-hitting drums cannot be ignored. It's the catchiest song on the album by far and one of the most energizing songs in Kanye's entire catalogue. It manages to be simultaneously surreal and empowering, which is quite the wild balance to strike, but Kanye does it perfectly.
On rare occasions, the record's dark, aggressive and mechanical sound is harshly juxtaposed with the exact opposite: beautiful music with lush and soaring production work. In this way, "Yeezus" is entirely unpredictable — you never know where a song is going to go.
To try and even explain my other favorite tracks as I did above with "Black Skinhead" would be a fruitless effort. I can describe "Yeezus" in broad strokes, but to start to get into the minutia of this record would be, as I've said,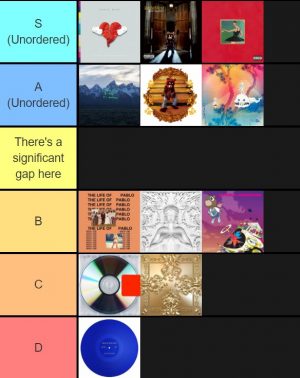 a slippery slope.
I respect "Yeezus" immensely as a work of art. As an execution of a vision, this is one of Kanye West's most successful projects. In that light, I'd easily put it in S tier, and I could easily see this being a top three album for someone. For me, though, my primary enjoyment comes from the pure spectacle of "Yeezus," not the act of listening to it.
At the same time, though, I have four favorite tracks for a 10-track album. Am I therefore rating it too low? It's tough to tell. This album may go up significantly in my rankings with time.
Regardless, now that Kanye's gone wacky, there's no turning back. Be sure to check in next time for my review of "The Life of Pablo." And, as always, join me in conversation about this and other Kanye West releases via Twitter @bhajerCT and @centraltimes, using the hashtag #Kanyewestworld.
Happy listening!
Audio and video clips contain explicit content and are property of Universal Music Group, 2013.