Central hosts step conference for first time since 2008
Twelve step teams from Chicago and Indiana came to Naperville Central for iStep, an annual step conference, on Oct. 29.
Step, which is a form of dance, includes complex rhythms and sounds achieved through a mixture of footsteps, spoken word, and hand claps.
This year was the first time iStep was held since the COVID-19 pandemic. The event featured four workshops led by step instructors, along with several guest speakers. Central last hosted the conference in 2008.
According to Darrell Green, the coach of Central's step team, Dynasty, the conference was a chance for the teams to step out of a competitive atmosphere.
"Everybody loves competition, but when can people get together and just learn how to interact, love, and hang out and you know, relate to each other again?" Green said. "That was the purpose [of this year's iStep.]"
The theme of this year's conference was "Level Up". Which includes acronyms for love, value, and unity. According to Green, he recognized the ability for iStep to allow kids to level up without making it a competition.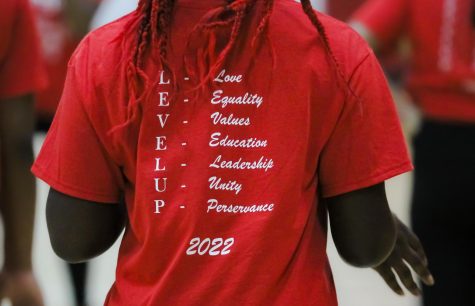 The 2022 iStep conference was the first for freshman Dynasty member Milan Brown.
"I think the best part of today for me was knowing that there are other step teams and getting along with them," Brown said.
Green has found value in step beyond what's at the surface.
"There's way more [to step] than [performing]," Green said. "Community service, networking, brotherhood, sisterhood, and learning to work as one group."
Lachel Merritte, a sophomore at Merrillville High School, shared the same experiences as Green.
"[Step] helped me do community service," Merritte said. "It taught me how to work together as a team. It taught me leadership and did a lot of stuff that I really wasn't doing outside."
After five hours, the day ended with a goodbye to Lynne Nolan, Central's Dean of Student Activities, who is retiring at the end of the calendar year. Dynasty and Central's K-Pop dance group, R4in, performed in honor of Nolan's career.
Nolan, founder of Dynasty, was also the host of one of the first iStep conferences. When the school that hosted previous iStep conferences was unable to host this year's conference, Dynasty coaches Green and Susan Macikas wanted to host it at Central.
"I want[ed] it," Green said. "If [Nolan] was the first one to start it then she should have it. It would be fitting for her to go out on her last year, to have it back here at the school with her." After group activities and workshops, four guests spoke to the conference offering advice and commendation. One of the speakers, Rebecca Moss, NCHS Student Advocacy Specialist, left teams with one last message.
"Each and everyone of y'all has value," Moss said. "You have a purpose."