Central teacher 'sets students free'
Social studies teacher Seth Brady says his teaching philosophy is "if you set students free they'll do amazing things," but he didn't always have that idea. In fact, originally, he didn't even want to be a teacher. For his undergrad, he studied anthropology and philosophy with the goal of becoming an anthropologist, and then worked as a survey researcher for five years.
"I made the switch [to a teacher] right after 9/11," Brady said. "It just seemed to me that what's missing from public schools was what is now referred to as cultural literacy or religious literacy."
This school year, Brady is teaching Humanities Capstone and World Cultures. In the past, he's also taught Peace and Conflict Studies and Comparative Religions.  In his classes, Brady tries to follow his philosophy in every class..
"That involves thinking carefully about how to provide enough structure to organize student efforts but enough freedom that they can drive the learning," said Brady.
In capstone, Brady said the course is already designed around giving students the freedom to act on their own compelling question. However, Brady said his Peace and Conflict Studies class is a "sort of weird blend."
"The first piece of the class is really about those main concepts, peace and conflict," said Brady. "If our job as social studies teachers is to prepare students to actively engage in democracy, I just feel the [teacher-student power structure] models dictatorship a lot. I open up the classroom in a way where everyone is given a voice."
In Brady's World Cultures class, he gave his students the opportunity to design the way their lessons were taught. Freshman Claire Cameron's class chose to focus on learning through group discussions and watching documentaries.
"We got to create our own syllabus this year," said Cameron. "We got to choose what we like and the way we want to do stuff. [Brady's] very fun. I love him. I look forward to going to that class. He's very uplifting, very genuine."
Brady also starts each period with meeting up in a circle and discussing a question. Senior Dylan Swanson is a student in one of Brady's capstone classes.
"Every single day there's something that I could talk about," said Swanson. "But my all-time most impactful Mr. Brady quote is 'anything you do that is hard is worthwhile, and anything worthwhile is hard to do.'"
Brady starts his classes by meeting in a circle to address another component of his teaching philosophy.
"Teaching for me is about relationships," said Brady. "If you don't focus on and emphasize the relationship between teacher and student, between students and students, what's the point? School shouldn't be a transaction, where I award you, I pay you with points for good work. We should decide as much as we can collectively about what learning is and how to go about it."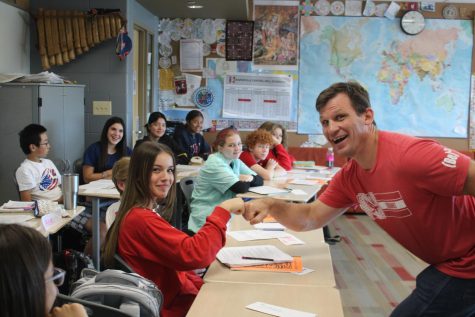 Many of Brady's students appreciate his take on teaching and structuring his classes.
"Mr. Brady is definitely my favorite teacher," said Swanson. "You can tell he's experienced a lot in his life and he's kind of taken it all in to be very wise. He has an attitude towards teaching that I haven't experienced with any other teacher. He's very laid back and he teaches in a way more oriented towards learning than the power structure of the teacher to student relationship."
The perspectives Brady has are ideas that he's developed over his 19 years of teaching. 
"All this stuff I've just said about when you set students free, they do amazing things. I did not figure that out until 14, 15 years into my career," Brady said. "The shift to teaching is more in some ways personal in nature. My idea of what school is was radically different from what I imagined and I'm a much different teacher than I was 10 years ago."
Over his years of teaching Brady has seen his own students make significant impacts across the community and globe by doing things such as designing a game to educate and help prevent Ebola outbreaks in Sierra Leone or getting involved with the Bangladesh labor movement. 
"When you set students free they do amazing things, I'm not [making these changes] at all," Brady said. "All I'm trying to do in class is get a high schooler to do what a kindergartener does naturally, because, unfortunately, a lot of curiosity is squeezed out of us because there's so many demands. The focus slowly shifts to about grades and about the game of school. It's not the student's fault, it's not our fault, but there is a system that has incentives that push us in that direction. So we've got to break it."