Central welcomes new staff members for 22-23 school year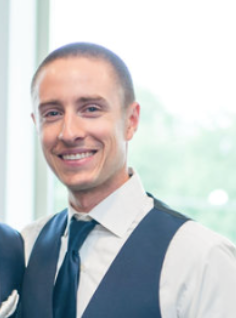 Q: What's your name?
A: Ryan Crawford 
Q: What's your position here at Central? 
A: I'm a student advocacy specialist. Rebecca Moss is my partner and we are here to help support students' social-emotional learning and provide a different model for in-school suspension to focus on skill building.
Q: What do you do at Central as a Student Advocacy Specialist? 
A: For the first week, we spent a lot of time building relationships and getting to know students who might not be feeling as connected in Naperville Central, or just need a little bit of extra support. We spent a lot of time getting to know those students. And day to day, we'll be monitoring the Community Resource Center and meeting with students to help make sure that they have the support that they need to be successful in their classes.
Q: What did you do before coming to Central? 
A: I previously was a special education teacher here in [District 203]. I was a student services coordinator at Connections — which is our transition program for individuals with disabilities — and [at] Millstreet Elementary School. I was split between Millstreet and Connections. I was a special education teacher at Connections for the six years before that.
Q: What hobbies are you involved in? 
A: I love sports. I love baseball and watching baseball. I played baseball growing up. I have a 2-year-old son and a 3-year-old dog who keep us plenty busy. So when I go home, there is a lot of running after the little ones, but it's a good time. I like spending time outside. Weirdly enough, I like cutting the lawn. It's kind of therapeutic. It's good exercise. I like staying active. [I like] hanging out with friends. I'd love to get involved in baseball. I love intramural sports. In the past few years, I've coached Special Olympics basketball as assistant coach with Brandon Moriarty, who's another teacher here.
Q: What communities are you involved in or hope to be involved in at Central? 
A: I'm not sure. I'm still kind of exploring. I'm trying to get an idea of what Central has to offer because there are so many different clubs and activities. I want to get to know as many people as I can and be involved in whatever I can. If [anyone has] any suggestions on things involved in, feel free to send them my way.
Q: What are some of the ways that students can reach out for support?
A: Right now, it's really going through our deans. So if students ever feel like they need more support, they go to deans. At any time, anyone can pop into the Community Resource Center and say 'hi'. We're in room 38. This is my office and we're more than happy to talk to anyone who wants to stop by.