Milkshake shop criticized for not fitting into 'Naperville aesthetic'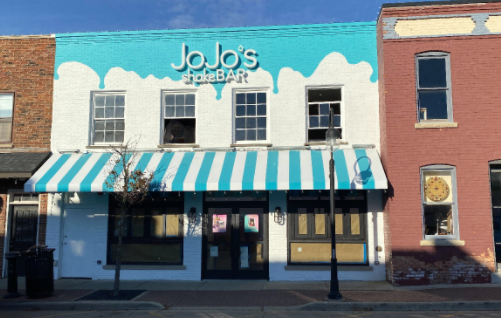 JoJo's Shake Bar, a retro 80's and 90's style diner, is set to open on Jackson Ave. in Downtown Naperville this January amid controversy regarding the building's design. 
While JoJo's serves traditional American savory food, like pot pies and soups, the star of the menu is their dessert. JoJo's specializes in lavish milkshakes, with a myriad of toppings, including marshmallows, cookies, fruit, and more.
Downtown Naperville has become an increasingly competitive area for food and dessert businesses. However, Madi Vandevelde, the Public Relations and Media Manager at JoJo's, believes that the business can stand out among the competition. 
"It's something that all ages can like," Vandevelde said. 
While milkshakes and hot chocolate are most appealing to younger kids, adults can enjoy it too, Vandevelde said. 
JoJo's offers alcoholic versions of all of their drinks to appeal to adult customers. In addition to that, JoJo's has a retro-themed interior, including 80's and 90's music playing inside the restaurant.
In addition to its wide appeal, Vandevelde said that JoJo's is "very Instagram friendly."  This can be seen on the restaurant's Instagram page, which has over 50 thousand followers, despite the restaurant having only 2 (soon to be 3) locations. 
JoJo's currently has locations in Chicago's River North neighborhood and Water Tower Place. Vandevelde said Naperville was a good choice for the business's first expansion outside of Chicago. 
"[Naperville is] very vibrant and has a lot going on," Vandevelde said. 
Recently, the restaurant's facade has been criticized by the Naperville Planning and Zoning Commission. The bright design of the facade, which includes a blue paint design made to look like dripping ice cream, stands out in contrast to the brick buildings around it. 
Anthony Losurdo, the commission's vice chairman, brought up the issue at a Nov. 3 meeting.
At the meeting, Losurdo spoke about how the facade stands out in comparison to other buildings in the area, calling it a "sore thumb in Downtown Naperville."
Other commissioners agreed with Losurdo, including Chairman Bruce Hanson.
Hanson said that if more stores choose to utilize unique colors and designs like JoJo's Shake Bar, "we could lose the character of Downtown Naperville."
While the building was criticized by the commission, no action was taken. 
JoJo's plans to open in January at 5 Jackson Avenue.