Girls' tennis team wins sectionals second year in a row
For the second year in a row, the Central girls' tennis team claimed first place at Sectionals, held from Oct. 18-19 at Naperville North. Sophomore Tiffany Chen finished first in the singles competition and Central's doubles teams sweeped the doubles bracket. The team of junior Cass Goldner and senior Cindy Liu placed first after defeating their fellow Redhawks, seniors Meaghan Bedigian and Sara Furukawa, who ultimately captured second place. Chen, Goldner, Liu, Bedigian and Furukawa will all compete at State from Oct. 24-26 at Buffalo Grove High School. Though freshman Hannah Swarm did not qualify for State, her win in the first round of singles competition contributed four points to the team.
Ultimately, Central won the Sectional with 32 points. Benet Academy and Neuqua Valley High School tied for second place with 21 points, while North and St. Francis High School tied for fourth place with 12 points.
According to Bedigian, this was the first time in 20 years that girls' tennis has qualified three positions—one singles player and two doubles teams—for State. As the sixth seed in doubles competition, Furukawa and Bedigian knew that making it to State would not be easy.
"We were the only second doubles team to get seeded," Furukawa said. "We went into each match without even thinking about [our] seed because we knew that no matter what, we had to play the same teams anyway. We just knew we had to focus on the next match and proceed."
While Liu and Goldner have been playing together for the past three years, this is the first year Furukawa and Bedigian have played on the same doubles team. At first, this posed a challenge.
"Last year at Sectionals, I played second singles and Meaghan played second doubles with [Central graduate] Maria Mihailescu," Furukawa said. "Doubles and singles [are] completely different game[s]. I was talking to my coach and saying that 'I don't think this is a good idea, I don't think me and Meaghan will qualify.' But Meaghan and I actually found that our tennis game complemented each other. For some reason, we always know where each other are on the court."
Mental toughness played an important role in Furukawa's strategy before and during the Sectional.
"Meaghan and I always had the goal of wanting to qualify for State," Furukawa said. "At Sectionals, we knew this was our last chance. We knew how we did [at Sectionals] meant whether our season would continue for one week or end. We would die for it because we knew it would be our last match. But then we ended up winning."
To qualify for State, Furukawa and Bedigian first had to defeat the third seed, the team from St. Francis High School.
"Never give up—even though everyone says that, it's hard to stay mentally tough when you're down," Furukawa said. "In our qualifying round against St. Francis, we were down because they won three games and we won one game, but then we came back to win 6-4. We played well and we were laughing and smiling on the court. We knew that if we just had fun and played strong, everything would happen the way it should happen."
Taking it one game at a time worked. Not only did Furukawa and Bedigian defeat St. Francis to qualify for State, but they also beat the doubles team from North to make it to finals, where they faced their fellow teammates, Liu and Goldner.
Liu commented that it was "definitely weird" to play another Central team, especially because "every day we practice against them."
"No matter what point we won or lost, everyone [from Central cheered], 'Let's go Hawks!'" Liu said.
Despite the awkwardness, Liu and Goldner knew that their performance in the Sectional final determined seeding for State. In the end, Liu and Goldner emerged victorious.
The girls celebrated their Sectional win through a special tradition, pouring a jug of water onto their coach, Don Bonet. But this year the tradition didn't go exactly as planned.
"We tried to pour [the jug of water] on him and we ended up missing him and dumping it all over the court," Furukawa said. "We [weren't] satisfied enough, so we took one of our own gallon water jugs and poured it on Mr. Bonet."
Last year's Sectional win marked the first win for the girls' tennis team in 19 years. Due to last year's success, Furukawa said that the expectations for this year were much higher. She attributes the team's recent success to the talent and experience of tennis players coming into high school.
"We were lucky to have so many players coming into high school already having experience playing tournaments and playing tennis outside of just high school," she said.
Last year, the team placed seventh at State, with Chen finishing fourth in singles and Liu and Goldner finishing top 20 in doubles. This will be Liu's fourth and last year at State. Her goal is to finish in the top 12 individually with Goldner.
"[My game plan] is staying consistent and being aggressive," Liu said.
Meanwhile, this is the first time Furukawa and Bedigian have qualified for State.
"We're still trying to figure out a realistic goal, but our coaches keep saying to try to get Top 64, Top 32, just getting past a few rounds," Furukawa said. "Meaghan and I are still happy we qualified."
Despite what happens at State, Furukawa will always remember the last point of her qualifying match, the point that qualified her doubles team for State.
"I just remember it ended with the opponent hitting the ball out. I just remember looking at Meaghan and we hugged each other and I started crying."
Leave a Comment
About the Writer
Emily Zhen, Managing Editor, Opinions Columnist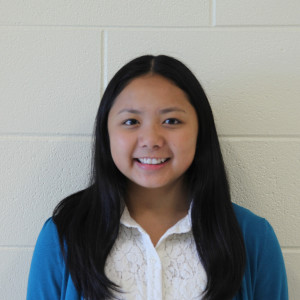 Email:
[email protected]
Favorite Quote:
 "Do you ever have nightmares that you don't align to baseline grid?" - Mikayla Ostendorf
Best CT Memory:
 Walking down the San Antonio Riverwalk with the rest of the CT staff at convention last year. It was absolutely picturesque at night, and we ate at a great Tex-Mex restaurant called Iron Cactus. They had the best guacamole that we sat there eating for a whole hour.
A word that describes me is... 
enthusiastic because I'm passionate about the activities and organizations I'm involved in.
My interest in journalism is...
 news and opinions writing.