Director David Fincher's latest, "The Killer," is a cold, precise and darkly comedic thriller. It also seems strangely personal to Fincher, though not in the ways you might expect.
"The Killer" follows an unnamed assassin (aptly given the title The Killer in the credits) as he goes on a hunt after one of his hits goes wrong. 
If you're looking for an assassin movie with the absurd wall-to-wall action and stunts of something like the "John Wick" franchise, you will be in for a bad time. "The Killer" is instead a deeply patient character study, one where the violence is brief and sparse and the focus is more on the set-up than the act itself.
The film is split into six chapters. The first follows The Killer as he prepares for the fateful hit. This chapter is filled with narration, all the way until the hit goes wrong. I found one of the most interesting parts of the film was the choice to strip back the narration as everything starts to fall apart. It's easy for The Kiler to stay calm and collected when everything is going his way, but when the plan fails he falls into a revenge-filled crisis, searching for answers only to be met with his own nihilism.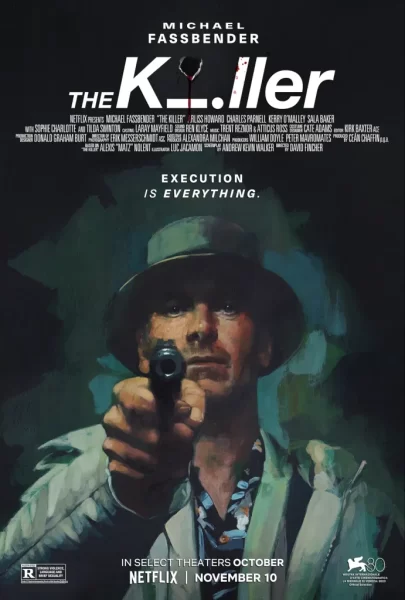 The film is also about how far he will go to try and feel important. The Killer wants so badly to be a part of "the few" that he continues to do a job he doesn't need to and follows a mantra he can hardly believe in. "Stick to the plan. Anticipate, don't improvise," he repeats before he is thrown into a fight he didn't anticipate. "Forbid empathy," he narrates before showing one of his targets empathy in his own twisted way.
Anyone who knows what a perfectionist Fincher is knows how great this character and story seem for him. At times, it almost seems like him reckoning with his own clean, cold, methodical style and his previous body of work.
Michael Fassbender is the perfect fit for this Smiths-obsessed assassin. The only way The Killer can focus is with a playlist of 80s indie rock. Fassbender delivers all of his lines meticulously, keeping his self-serious dry tone the whole way through.
There's some comedy found in both Fassbender's delivery of some absurd lines and the updating of a job like an assassin to the current economy of gig-based jobs. In both his setups and getaways, The Killer relies on Uber and Amazon with a diet of McDonald's and Starbucks while spewing off lines about Wordle and dropping the term "normie."
Cinematographer Erik Messerschmidt does a great job as well. Much of the movie is in that typical clean Fincher style, but it's nice to see when the camera breaks free as that panic starts to seep in. 
While none of it will be going on your Spotify playlist, Trent Reznor and Atticus Ross do good work building on that tension and panic with their electronic score.
Overall, I found "The Killer" to be a solid thriller and a compelling look into the mind of this methodical assassin. It's interesting to take note of exactly what information the titular killer is open to revealing to the audience via voiceover, and what he chooses to hide away through the end.
It's a real shame that Netflix distribution means that even a director like Fincher gets a very limited release (I had to drive 40 minutes to the closest theater that was playing it) before it gets dumped into the Netflix content pile in a couple of short weeks. I'm excited to revisit it at home, but I'm not sure it'll hit the same as in a theater. It's the most I've been fully engrossed in a movie in a while, in large part because of the immersive theatrical experience, and I can't help but feel like it won't quite be the same at home.