The number of sections of freshmen-level AP classes have tripled between last year and this as a result of District policy changes made in anticipation of a new state law.
Enrollment in AP Human Geography went from 44 students in the 2022-2023 school year to 119 in 2023-2024, while enrollment in AP World History went from 26 to 56 students. This increase led to the addition of four sections of AP Human Geography and two sections of AP World History.
This increased enrollment is the result of the passage of the Accelerated Placement Act in the spring of 2021. Though the law won't be in place until the beginning of the 2024-2025 school year, District 203 implemented policy changes this year as a pilot in anticipation of the law. Central and North used the eighth grade Illinois Assessment of Readiness (IAR) scores of incoming freshmen to determine who was eligible to be invited to enroll in AP Human Geography or AP World History.
"The legislation has specified that there must be a way for kids who are performing at grade level on state standards to take an honors or AP course," Principal Jackie Thornton said. "We did a pilot this year with AP Human and AP World, which pretty dramatically increased the number of students that are enrolled in those courses."
With six sections of AP Human Geography running this year, the class is being taught by both Randy Smith and Maria Connell. While Smith has taught the course since it was first offered at Central, this is the first time he's teaching the class alongside another teacher.
"Connell has been a great add to the team," Smith said. "I think what's exciting is having the ability to collaborate with someone else, but also to have someone, since I'm more experienced in this class, to mentor."
With the increase in enrollment, some administrators were concerned that students might have difficulty keeping a passing grade, though they have not seen a big change between this year and last thus far.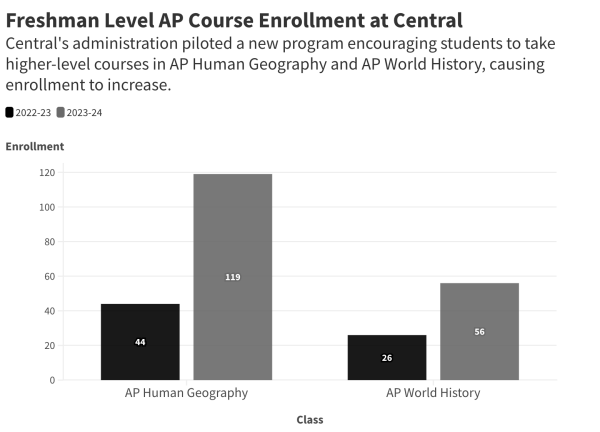 "We're very closely monitoring student grades in those courses as well as information about who is trying to drop those courses," Thornton said. "What we've found so far is that we are not seeing dramatic changes in the number of students with a D or an F in those classes."
While students' grades have not changed significantly, teachers are seeing significant usage of SOAR support and reassessments. According to Connell, the class typically receives 45-60 students in SOAR Support periods (the sessions are capped at 60 students).
"I think that's honestly a good thing because they're utilizing that time spent [and] getting extra support," Connell said.
Work is also being done at the junior high schools to ensure that students are ready for the course load of an AP class.
"In middle school, they made it seem like it was gonna be really difficult and it isn't," said freshman Rohan Filip, who's taking AP Human Geography. "They overhyped it too much."
Next year, Central will be required to be in compliance with the Accelerated Placement Act in all four core subject areas. While Central has been running an opt-in program this year, next year will run as an opt-out program: instead of students being "invited" to take a more advanced course, they will be automatically signed up for the accelerated course, and will have to opt-out if they wish to not take it.
Students' 8th grade IAR scores will be used to place incoming freshmen in Honors English 1, Algebra 1 with Geometry, and Honors Biology (for incoming sophomores), in addition to AP Human Geography and AP World History.
"The challenge with that is we are still likely using eighth-grade assessments as one of the determining factors [for incoming sophomores] along with current progress grades because we don't have a state assessment for freshmen before course selection," Thornton said.