The DuPage Valley Conference (DVC), Naperville Central's conference, will combine with the Southwest Suburban Conference (SWSC) for football starting in the 2024 season.
The merger will only affect football; all other sports will play in their original conferences.
The newly combined group will include 15 schools, divided into three divisions of five based on the schools' sizes and football winning percentages over the past two years. The top division will be referred to as the blue division, the middle as the red division and the bottom as the green division.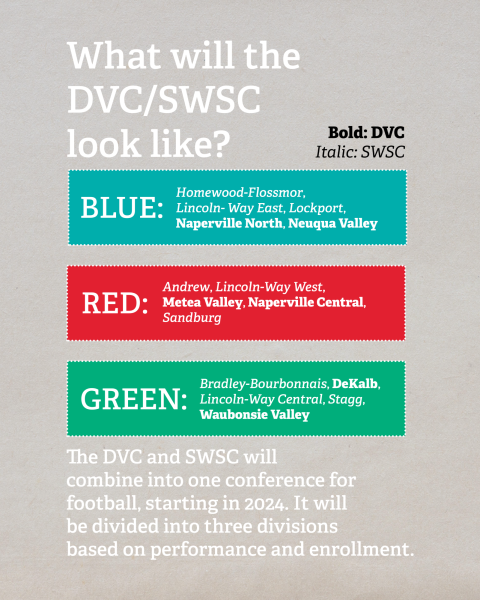 "[SWSC] lost a team, Bolingbrook, and that put them at an uneven number of schools," Athletic Director Chris Kirkpatrick said. "Anytime in football when you have an uneven number, It makes scheduling messy. [The DVC] only has six teams, so we end up having to play each other twice, and we didn't want to do that."
Each school will play the four other teams in their division once, as well as two or three games against conference teams not in their division. The blue division and three teams in the red division will play three conference games against non-division teams, while the remaining seven teams will only play two conference games against non-division teams.
Central and North had the same record over the last two years, but because North has a higher enrollment, they were placed in the blue division and Central was put in the red division.
"I think the only disappointment is that we would love to be in the top conference," football head coach Mike Ulreich said. "That's out of our control right now. We're missing the opportunity to play our natural rivals every year. It's hard. So we're gonna have to find creative ways to [play them], especially with Naperville North."
Central will only play two teams from the blue division every year, meaning they may not play North as a conference game every year. For 2024, Central won't play North.
Central will likely still play North as one of the school's non-conference games for 2023, preserving the longstanding Crosstown Classic played at North Central College, although the game would be played within the first two weeks of the season.
The new combined conference may reorganize divisions in the future, according to Kirkpatrick, but the divisions will likely stay the same for the next few seasons.
Central will play each team in their division every year: Andrew, Carl Sandberg, Lincoln-Way West and Metea Valley. For 2024, Central's non-division games will be against Lincoln-Way East and Lockport from the blue division, and Stagg from the bottom division.
"You really get around and see a lot of good football teams in that conference, which is gonna be fun," Ulreich said.