Structural issues with one of Naperville Central's exterior walls — a section between Central's Little Theater and Door 7, on the building's east side — will require the wall to be fully torn down and rebuilt, Principal Jackie Thornton said in a Talk203 communication on Aug. 1.
According to the Talk203, the wall will be fully demolished by the first day of the school year, and reconstruction is expected to last through District 203's first semester. Classrooms adjacent to the wall will be closed for first semester "out of an abundance of caution," according to the message. The Little Theater and the staircase near Door 7, running from the basement to the third floor, will also be closed.
The damage was found during a routine check of the building by Central's maintenance staff.
"There were some bricks that seemed to not be as solid as they should be," said Carrie McFadden, Assistant Principal for Operations. "They were removing bricks, and noticed that there was an excessive amount of water in [the wall] that was starting to rot some of the bricks and the steel beams that support [the wall]. [I was told there is] excessive deterioration, and that there are places where the window is supporting the steel beam, which is not the way it's supposed to work."
Further information on the state of the wall is pending a full inspection of the damage and will be presented at District 203's school board meeting on Aug. 7.
Classes in the affected rooms are being redistributed throughout the building.
"And the good news — if we're going to find good news here — is we had closer to 3,000 students and now we have 2,484, so it's a little bit easier to [relocate classes]," McFadden said. "Everybody's going to be in a classroom [during all periods] except for homeroom. We have to use some creative spaces because homeroom is the only time in our day that everybody is in a classroom. At other times, students are in a study hall there or in large PE spaces."
Those "creative spaces" include the Learning Commons, auditorium lobby, Black Box Theater and band room, McFadden said. Ten homerooms in total will need to be relocated.
On the third floor, two biology rooms and the Anatomy and Physiology room will be displaced.
"Those rooms are very specific, and what they need in there [is very specific]," McFadden said. "So that is the tricky part, having all the supplies those classes need."
AP and Honors Biology teacher Amy Hastings is one of the teachers who is losing their classroom for first semester.
"I'm relocated to an astronomy room," Hastings said. "Unfortunately, there's nothing there that I would need for biology and the astronomy teacher won't be in that room teaching astronomy, but one of the good things about teachers in our department is our ability to work together and collaborate. We'll switch rooms if we need to once in a while [if we need access to other materials] and just figure out the first couple months."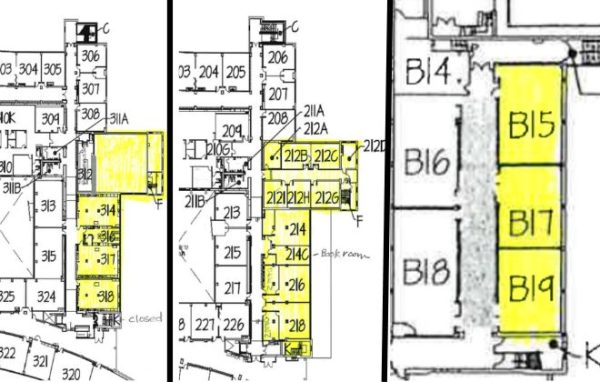 The rooms closed on the second floor will include several small classrooms used for literacy workshops. Classes meant to take place in those rooms have been combined into larger groups and relocated, McFadden said.
Central's Accommodated Testing Center and a sensory room share a hallway with the literacy workshops, but they will remain open during construction McFadden said.
English teacher and Flight Yearbook adviser Nicole Weiss will also be displaced from her classroom. Weiss teaches Blended Advanced Media Lab — a class made up of Central Times and Flight Yearbook staff members — who use the yearbook and newspaper offices adjoining Weiss's room and the room next door daily.
While those offices remain open, Media Lab will be relocated to a classroom further away from the offices. Yearbook and Central Times club meetings will also be relocated.
"Everyone who has been involved in that process has been really accommodating and tried to make sure it's smooth for everyone," Weiss said. "But I also really love my room so I'm sad to not have that space, and I'm sad that our multimedia lab class is going to be in a different room. I'm just really glad that we're able to still use our lab space."
Several foreign language classes in Central's basement also will be relocated.
This news is still developing. The Central Times will continue to publish stories on the matter as more information becomes available.