Gericke and Kozminski win reelection in school board race, newcomer Black wins open seat
Two incumbents and one newcomer won seats on the Naperville 203 Board of Education in the April 4 consolidated election.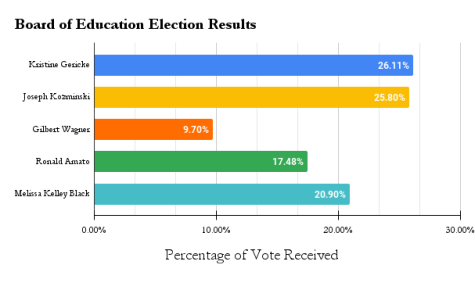 Current board Vice President Kristine Gericke was nominated to her second full term, carrying 26.11% of the vote. Incumbent Joe Kozminski came in second, winning 25.8% of the vote. Melissa Kelley Black won the third open seat with 20.91% of the vote. She will replace Tony Casey, who chose not to run for reelection. Candidates Ronald Amato and Gilbert Wagner both came up short, with 17.49% and 9.7% of the vote respectively. 
"I am grateful for the trust that our community has placed in me," Gericke told The Central Times. "It is an honor to be part of this exceptional school district." 
Kozminski, a physicist, wants to continue to pursue sustainability, SEL, and student support initiatives in his second term. 
"I'd like to thank everyone who supported me in the election," Kozminski said. "I am excited to continue serving the District 203 community and working with my colleagues on the Board and the District to provide a top-quality education for all students in Naperville 203."
Ronald Amato, who came in 4th place, called out the negative comments he received but reaffirmed his commitment to the community.
"More so than any other candidate, I feel there were negative things said about me that had no basis in fact," Amato said. "I wanted to give back because I care about our kids and schools. People who know me or watched the candidate forums understood that I had good intentions. Despite the negative ads, I may run for elected office again. I care about Naperville and have a hard time sitting on the sidelines."
Melissa Kelley Black, who won a seat on the board, did not respond to Central Times' request for comment, neither did Gilbert Wagner.
Gericke, Kozminski, and Black will be sworn in for a four-year term in May.