Central sisters find connections on mission trip to the Dominican Republic
In the mountains of Jarabacoa, Dominican Republic, a playground overlooks a soccer field. Kids hang over the playground railing and cheer on the blond-haired girls playing soccer- "Americano! We love you! We love you!"
This was one of the most memorable moments of sophomore Fiona Holba and senior Annika Holba's 10 day mission trip to Jarabacoa. The trip was sponsored through The Naperville Compass Church as a part of Kids Alive International's Dominican Ministry. The mission was to help build a school for kids from a local orphanage.  
"I really liked that [we were] working with kids because I knew in advance that these were going to be kids that didn't have a lot and were in a hard area of their life," Annika Holba said. "I thought it was a really cool opportunity."
The sisters bonded with the children they worked with during the trip, finding surprising connections despite a language barrier. Fiona Holba bonded with a girl who was translating for her.
"I made a friend at the orphanage, a girl my age who spoke English and Spanish so she was my translator," Fiona Holba said. " We hung out, and we both sobbed the day I left."
Fiona Holba also received a bracelet from a little girl and still wears it because it is so special to her. According to Fiona Holba, the children from the orphanage don't have many things to look forward to, so when groups come down to visit them it means a lot. 
"I think they really like to know that someone across seas cared about them, and it was cool to see that they really loved having the Americans come," Annika Holba said. "Every time we walked by, kids would swarm you and hug you."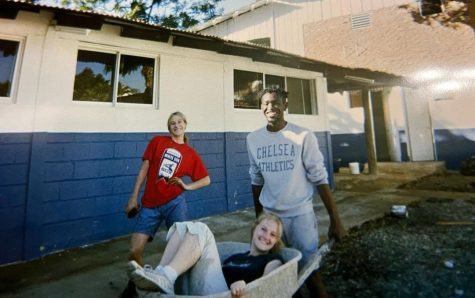 The volunteers were not the only ones leaving an impact on the people they met. According to Annika Holba, the volunteers walk away from the trip with a new perspective gained from the people they helped. 
"It put my life into perspective because I had never before seen poverty like that, so coming home made me appreciate the little things and just how much we have here," Annika Holba said. 
Fiona Holba gained a new perspective on her own life after working with the children.
"It made me feel almost guilty because I was kind of upset with my life at home, and I had so much compared to them and they were so happy and they had little to nothing," Fiona Holba said. "It was just cool to see how your mentality really affects your way of life. It doesn't matter what you have." 
The Holba sisters learned to be thankful no matter their circumstances and developed an appreciation for traveling to different countries and having a more immersive experience. 
"Being able to go and place yourself in a community where the atmosphere is completely different can change your life," Fiona Holba said. "It's just so cool. Now I see my life through a whole new lens. So get out and travel and immerse yourself in the culture."