Blindness no obstacle to Central senior's music career, school experience
Every morning with a white cane in hand, senior Christopher Roberts steps off the bus near Central's greenhouse doors. He's accompanied by an assistant who helps guide him to the doors, but he's basically memorized the path, he says.
"[After] my bus drops me off at the greenhouse doors, I know where the classrooms are, the short hallway in the flat wing, and the band hallway," he said. "There's a door coming inside where [you] sign in and sign out. I like getting inside."
Roberts has to memorize where classrooms, doors and hallways are located because he's blind. He has Norries Syndrome, and common symptoms include blindness from birth and delays in cognitive development, his mother wrote in an email.
But despite his blindness, Roberts can still tell what's going on around him.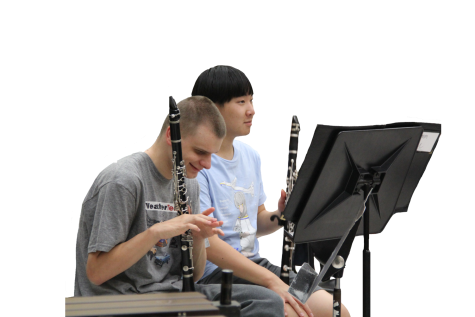 "[I can] hear the different types of noises that you hear in the building," Roberts said. "[I can] hear maintenance cleaning the floors, slamming a door, [maintenance] fixing the doors that [were] slammed."
Roberts also has perfect pitch and is a clarinetist in Central's Advanced Band.
"I started at River Woods [Elementary]," he said. "In fourth grade, I got these [Braille] sheet music. All of us learn how to do the music together and how to play the music better. I got the hang of it [now]."
Senior Raymond Xu has played the clarinet with Christopher since middle school.
"He's a fast learner," Xu said. "He can only learn by hearing, which is already absolutely ridiculous to me how he's able to remember all the music."
Roberts has a "remarkable" ability to play music he hears, Xu said.
"I was playing an audition piece to audition into [Advanced Band]," Xu said. "He memorized it so well, he could play along with me. It kind of sent chills down my spine because the audition piece is extremely difficult and requires a lot of emotion. In simple terms, he's remarkable"
Roberts also plays multiple other instruments.
"I really like to play the guitar," he said. "[I also play] the accordion [and] the violin recorder."
One of Roberts' favorite classes is Adapted PE. There, he gets to play with his friends.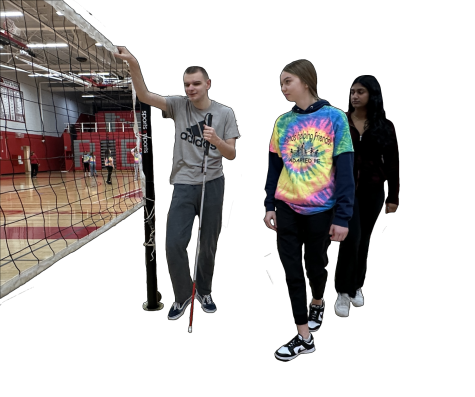 "I like [gym]," Roberts said. "[My favorite activity] is Just Dance. [I do] Just Dance every Friday."
During the week, Roberts will play basketball and volleyball with classmates. Sometimes, he'll walk around the building and surrounding area.
"Basketball is my favorite [sport]," he said. "[Sometimes], I walk the [around] the track and also cross streets through Webster, Porter and Hillside. And then we do the River Walk, go out to the sledding hill, and then to the short hallway in the flat wing, the student services and nurses' station hallway, the gym and locker hallway, and the learning commons. I will figure out where the auditorium and cardio room and gymnastics gym and main gym and weights room where we lift weights [are]."
During his lunch period, a friend helps him get his food.
"[They] get the tray and get the food," Roberts said. "[I like] the mashed potatoes."
Another class Robert enjoys is Cooperative Work Training (CWT).
"[He'll] develop a resume, work on interviewing skills, work at job safety, we do a lot on your paycheck," CWT teacher Jennifer Jansen said. "Going out into the community and a [getting] job is just an extra kind of benefit of the course."
When he gets older, Roberts wants to work in special education.
Evelyn Zwicky and Jake Pfeiffer contributed to this story.