Team of eight students researches at Argonne National Laboratory
Jeremy Zhao, Print Managing Editor & Head News Editor
April 1, 2023
As the Redhawk Bus motors past a security gate at 9 a.m. on Feb. 23, the chatter grows louder. Eight Naperville Central students, along with science teacher Tim Banas, enter Argonne National Laboratory on their way to the Advanced Photon Source facility.
"To be honest, it was kind of surreal," Central junior Vinay Narahari said. "This was my first time going to an actual lab."
Collectively, they are known as Central's Exemplary Student Research Program (ESRP), a team of juniors and seniors pursuing a yearlong research project involving the use of Argonne's state-of-the-art equipment. This year, the students have focused on biology under the guidance of Banas, who took over ESRP after physics teacher Katherine Seguino retired last semester.
"I was looking for a way to get involved with science students a little more," Banas said. "[Mrs. Seguino] used to do physics-based projects, but I wanted to take it in a slightly biological direction, having been a biology teacher for a long time."
Banas says that he's "just a facilitator," watching over their shoulders and helping them with logistics and communicating with Argonne scientists.
The ESRP program was launched at Argonne in 2012. For the first year, there were two teams. In 2022, there were 19 teams of high school students.
The Central team's 2022-23 project centers around growing plants and seeing how they can absorb heavy metals from the environment, Banas says. After posing an initial hypothesis, the team reached out to Dr. Olga Antipova, an Argonne scientist who works with X-ray fluorescence.
Antipova, familiar with the scientific process, says that ESRP takes a slightly different approach.
"It's a little inverted," Antipova said. "Usually, you have an idea and then you want to figure out what would be the best tool to test your idea. In our case, we [start with a tool] and have to come up with a reasonable idea to test."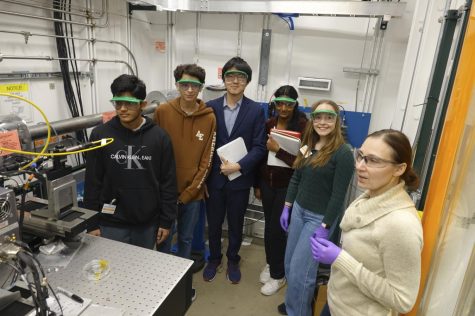 In other words, the plant project was brainstormed in part because it employed Antipova's unique lab equipment.
ESRP has an after-school meeting every Friday in Banas' room. Antipova will sometimes join a Zoom meeting or even come to Central to help guide the project.
"I really like this group," Antipova said. "They are definitely on the motivated and eager side."
To streamline the process, junior Faiz Muhammad says the group designated informal roles early on, including talking through meeting agendas, leading the creation of a poster and data analysis.
The eight-student team aims to present their findings at the APS/CNM Joint Virtual Users Meeting in April, alongside professional Argonne researchers.
Although ESRP is designed for high school students, Banas says the group has been treated as professionals.
"The abstract we had to submit was submitted through the Argonne system as if we were a normal team of professional scientists," Banas said. "The abstract was completely student written, and not only did it get high praise from the Argonne review team, but it was compared favorably to other professional scientists' abstracts. They did a really amazing job."
ESRP is not a school-sponsored club, but Banas says he's considering talking to administrators about making it an official club. Several students from the current team found out about it just by running into it.
"I was going through the science hallway and I saw the posters [from previous years]," Muhammad said. "I emailed, and Banas gave me the application for it."
Banas explained how the ESRP program gives prospective STEM students insight into real-world work.
"It's not just the excitement of using high-tech equipment that not a lot of people in the world have access to, but it's also seeing, on a day-to-day basis, what these scientists do," Banas said. "Some people perceive it as tedious lab work. So any student who's considering something like that, I think it's super important they see what it's actually like."