Local Chinese school hosts Spring Festival Gala
The Spring Festival Gala was hosted on Feb. 4 by Ray Chinese School, a weekend school that highlights Chinese culture, to celebrate Chinese New Year for the first time in three years due to COVID-19. The celebrations consisted of singing, dancing and various competitions.
Ray Chinese School has been held at Kennedy Junior High School on the weekends, which is where the gala took place.
This year's gala had the addition of awards. Teachers encouraged students to enter their writing or art for a chance to win a certificate and prize money ranging from $25 to $100. Projects were presented to school board members and they determined the winners. Grace Xu was the head event director and was in charge of the preparations. Several Central students in the AP Chinese class participated and won prizes, including Grace He and Peter Pu.
"I submitted an essay about Mulan and won second place," Xu said. "I received a certificate and a $50 Amazon gift card. It wasn't too stressful since I had [my teacher] helping me, but she was lowkey breathing down my neck because she thinks I'm obsessed with Mulan."
The dance performances are led by instructors Ling Jin and Xu Mei.
"We perform at the Spring Festival every year," Xu said. "It's a great experience that encourages people to embrace the art of dancing and have fun."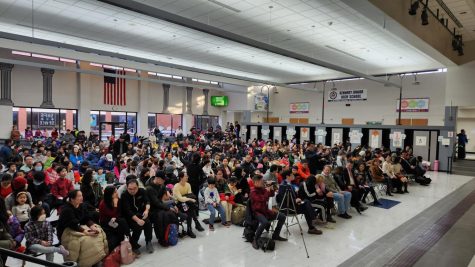 To witness the comeback of the celebration, a variety of special guests attended, including Naperville City Councilman Paul Leong and Patty Gustin, DuPage County Board Member. As a school board member, teacher, and parent of two kids who have participated in the programs themselves, Paul is no stranger to Ray's festival.
"I'm so glad that we're back [in-person]," Leong said. "It's great to see that Ray is rebuilding after a rough patch during the pandemic. Chinese New Year isn't as big of a holiday in the United States as it is in China, but through places like Ray, we are able to retain our cultural traditions."
On the flip side, this is Gustin's first time attending Ray's Spring Festival.
It's great to see everyone enjoying themselves and dancing beautifully," Gustin said. "Being together, sharing stories, and eating has been so much fun. This event brings the positivity we need after the pandemic."