District 203 music programs may soon require extracurricular music students to enroll in a music class
District 203 music programs may soon require students to enroll in a music class to participate in extracurricular performance ensembles, according to a plan district administrators presented during the Dec. 19 Board of Education meeting. The plan awaits approval by the board.
"As we reviewed our vision for music, barriers for growth and best practices in the performance music field, we determined it was time to make enhancements to our high school music program," said Dr. Chala Holland, Assistant Superintendent for Administrative Services/High Schools, at the board meeting.
Administrators researched eight benchmark districts from Illinois and two districts outside of Illinois.
"Though research proved that [District] 203's high school music program is comparable to other districts in many ways, it also proved we are discrepant in a few key areas," said Nicholas Janssen, Naperville North's fine arts department instructional coordinator, at the board meeting. "Our benchmark districts require students to be concurrently enrolled in a curricular performance music course while participating in performance music extracurricular ensembles."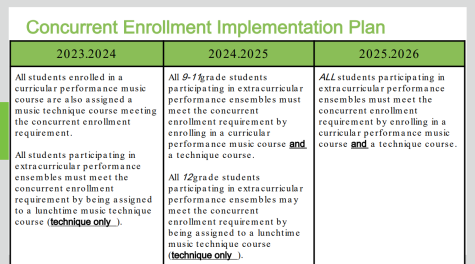 The proposed changes will happen over the next two years. According to the plan, all students must meet the concurrent enrollment requirement by being assigned to a lunchtime music technique course in the 2023-24 school year. Starting the 2024-25 school year, freshmen, sophomores and juniors must enroll in a curricular music class, while seniors will only be required to take a lunchtime music technique class.
"As the plan moves forward, students are grandfathered into a full performance music course," Janssen said. "This allows students to easily meet a concurrent enrollment requirement now, while also providing adequate time to plan for meeting the concurrent enrollment requirement in the future."
Other proposed changes include keeping two directors for choir, orchestra and band at each of the high schools.
"District 203 has had a significant amount of staffing turnover and instability over the years, and we have lost some of the best music educators in the area to local districts because of our model," Holland said. "Programmatic staffing in our music program must consider the longevity of the program in ways to consistency in staffing."