Humans of Central: Freshman wristband collector Marshaun Williams
"I have 29 [wristbands]. I started my wristband journey during basketball season last year. My coach had a bunch of wristbands on the sink, so I was like, I'd like to start a collection of my own. I almost get asked [about it] every day. I have more [at home]. So I think I'll get to like 100 before Christmas for sure. The majority of them I traded [for].
I went to Kennedy so I started off with one of its [clubs]. I still got it on me. I will always have the Kennedy one because this is the wristband I had when I first started and has been with me longest.
The last wristband I got was from a teacher. She already had a wristband at home and offered. I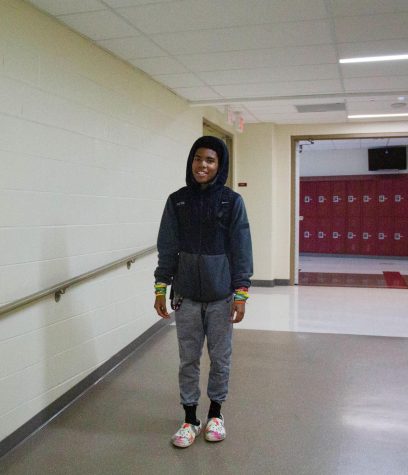 [have one] that says 'strikingly good food.' I found that one at the last fling. It was just on the ground. There's a kid's foundation because I'm pretty sure he was sick. His foundation was making wristbands and I got one from there. Some people give me wristbands to add to my collection, and some ask to trade with them. If someone was looking at my wrist and they saw a wristband, they would ask for it. And I'll see if they have any wristbands and just trade them. I have one that's a little [string]. That one I got from my friend's house. Yeah, it's pretty cool.
I always like to put them on. I take them off when I shower but I always like to put them on. It's like a habit to put them back. I feel empty, my body feels empty if they're not on. I have to wear these. I think I'm going to continue for forever, because I like it a lot. My brother used to collect these but he never had as much as I did."