Naperville Central graduate gives basketball tickets to students
Candace Parker, a 2004 graduate of Naperville Central, provided 800 free tickets to the Commissioner's Cup Championship on July 26 to students and families from Central, Lincoln Junior High, and Kingsley Elementary. Parker plays power forward for the Chicago Sky, which competed against the Las Vegas Aces at Wintrust Arena in Chicago.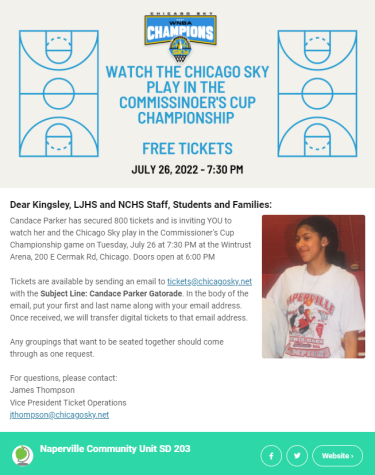 After starting out the game down 4-25, the Chicago Sky ended up losing to the Aces 83-93.
The Commissioner's Cup Championship is a mid-season WNBA (Women's National Basketball Association) tournament. The team in each conference with the highest win-rate play each other for a prize of $500,000 to the winning team and $165,000 to a charity of their choice.
Parker ended the game with the most points on the Chicago Sky, with a statline of 20 points, 14 rebounds, and four assists.
The Sky are currently tied 1-1 in their playoff series against the New York Liberty and will play their next game on Tuesday, August 23. Whichever team wins that game will advance to the Semifinal round. The Sky are currently ranked as the second best team in the WNBA.
During her time at Central, Parker won two Gatorade National Girls Basketball Player of the Year awards and won back-to-back state championships before playing at the University of Tennessee and eventually going first overall in 2008 to the Los Angeles Sparks. Since then, she has won two WNBA MVP awards, has been named to the All-Star Game seven times and helped the Chicago Sky win its first-ever WNBA Championship in 2021. She currently has the fourth most rebounds and ninth most points in WNBA history, according to Basketball Reference.