Naperville residents rally to protest gun violence
About 50 students, parents and other community members rallied May 28 afternoon by the Kroehler Family YMCA in Downtown Naperville to protest gun violence.
Several elected officials also attended the demonstration and spoke to the crowd, including State Rep. Janet Yang Rohr of Illinois' 41st District, State Rep. Anne Stava-Murray of Illinois' 81st District, State Sen. Laura Ellman of Illinois' 21st District, Naperville city council members Ian Holzhauer and Dr. Benny White and Rep. Bill Foster of Illinois' 11th District.
The rally, organized by recent Naperville Central graduate Anusha Kumar, occurred amid renewed controversy following a school shooting in Uvalde, Texas, where 19 elementary school students and two teachers were killed.
"It's to bring awareness, obviously, but now we need action," White said. "How many times have we seen this? We talk about it. We pray about it. We say the right things, but now we need some action. I think it's important that people hold elected officials, including myself, accountable, to do what we can in order to make some change."
Foster said the event can also have a more long term impact.
"The meaning [of this event] is to ensure the next generation is engaged and in a position to understand that the levers of power will be under their control," he said. "They should not be shy about seizing those levers of power to make the world the kind of world they want to live in."
In their speeches, Yang Rohr, Stava-Murray and Ellman talked about legislation the Illinois General Assembly was implementing on the state level to address gun violence. Examples include raising the minimum age for buying assault rifles from 18 to 21 and more stringent regulations on "ghost guns."
"We just enacted the 'ghost gun' law, prohibiting people from 3D printing their guns. If they do, they need to be serialized," Ellman said. "We have increased funding for mental health care. We're already doing a lot."
Some residents walking past the demonstration said they did not agree with its cause. One adolescent boy who did not want to be identified said "I don't feel like I have a voice in the community because — look at the amount of people that are here, right?"
A 77-year-old woman who said she had no first name and went only by Mrs. Woods argued with some protesters. She said the demonstration was distracting from other problems in the country.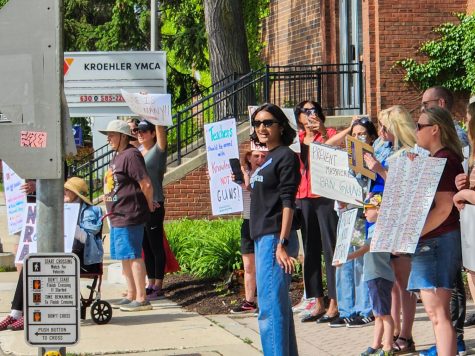 "We have the Second Amendment, and we have tons of gun laws in all the states," Woods said. "The minute you start saying 'we just want fingerprints,' that's exactly what the Democrats want to do. They're not listening to Biden. Biden is a racist. He calls half the country white supramacist. That is why all the Blacks are pushing whities down the subway tracks. That's why whites feel like they gotta shoot up a school — or Spanish."
The majority of those in attendance advocated for better gun safety in the U.S., chanting "enough is enough" and "stop the silence, end gun violence." Protester opinions on whether changes could happen varied.
"One has to do every little thing you can," said Preeti Kapoor, an educator at the College of DuPage and mother of two Central alumni. "I hope it gathers momentum and something comes of it. If you buy a gun, you must be responsible enough."
Naperville resident Becky Simpson said the demonstration accomplished "nothing."
"I'm tired of talk," Simpson said. "I want action. Because all they do is talk. We needed action in Columbine. Look at all the people who've died since. And all we do is bicker. Honestly, it's a disgrace. America can be better than this."
Kumar said she hoped the rally would encourage people to vote for gun safety reform.
"Just get people together, using their voice," Kumar said. "When they vote in the primaries next month, in November, all of these things are at stake."