Annual senior assassins game kicks off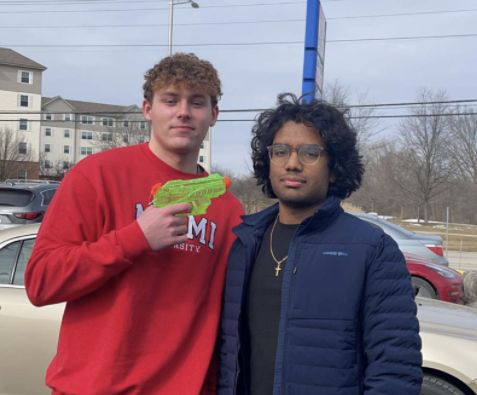 Naperville Central's yearly tradition, senior assassins, was kicked off at midnight on Monday, Feb. 14. 
"It's been a tradition for longer than [I've] been here, since 1995 or longer," moderator and senior Anna Chi said. "The premise of this game is that you are assigned a target and you must hit your target with water from a water gun or other water related item."
There are currently 270 seniors participating in the tradition and the pot is $1,350 dollars. The winner will get half the pot.
"There are also other prizes," Chi said. "Most kills gets $100, first kill gets $50 and most creative kill gets $50 as well."
The first hit was by Alex Noto on Luke Roy five minutes and 10 seconds after midnight. 
There is also a robust rule system, including a wanted list for violators.
"There are a lot of rules that go with assassins," Chi said. "Schools are completely off limits, no parking lots, [places of] religious affiliation are not allowed. You may not go into their house without permission, you may not shoot someone if they are the ones driving or if you're the one driving."
With regard to homes, assassins are only allowed to step on the sidewalk, driveway or front lawn unless invited by the target or the owner of the house.
For Chi, moderating senior assassins has been fun.
"It will be the first project I'm taking on almost entirely independently, completely student run, and I'm having a lot of fun with it. I really enjoyed setting up the assassins website," Chi said.
While senior assassins has been an annual tradition, it has no affiliation with Central.