Students protest mask mandate at Naperville Central
William Tong, Editor-in-Chief & Editorial Editor
February 14, 2022
Dozens of students who refused to wear a mask were delayed from entering Naperville Central on the morning of Feb. 9.
Around 30 students began to congregate outside the building's front entrance at 8:50. As more of them started to squeeze toward Door 1, several campus supervisors and administrators, including Dr. Chala Holland, Assistant Superintendent for Secondary Education, and Principal Bill Wiesbrook stepped out of the building to address the students. Several students and teachers crowded inside the front of the school to spectate.
"I chatted with some of those students, who told me it was their intention to not wear masks in the school building at all," Wiesbrook said. "I explained that it's a requirement: 'you won't be allowed into the school if you refuse to wear a mask.'"
The group grew to about 70 students. They refused to mask as a form of protest against what they say is a mask mandate illegally created by Gov. J.B. Pritzker and illegally enforced by Naperville District 203.
"This is a walk in for mask choice," junior Stephen Dodson said. "I'm just tired of wearing this thing. I can barely breathe when I'm in gym. It gets wet and I can barely breathe at all. COVID cases have gone down."
Inside the school, there was an expanded police presence at several entrances. Throughout the day, the protest remained peaceful.
"We're grateful for the peaceful nature of it," said Jackie Thornton, assistant principal for curriculum and instruction, as the protest unfolded. "We're doing our best to have kids in classroom learning."
Five parents also arrived in the front parking lot, yelling for the students to be let inside the school.
"I just want to grab the door for them," one mother said.
Another parent said "it's really all about the kids." All of the parents declined Central Times' interview requests.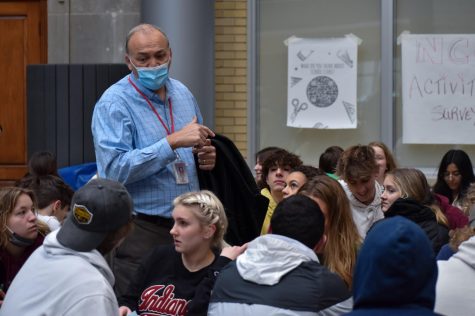 The students decided to put on their masks to enter the building a few minutes after the first period bell rang at 9, Wiesbrook said. They then proceeded to the cafeteria to unmask.
"I then explained it's a requirement," Wiesbrook said. "You have to wear a mask to be in the school."
Finally, the students were asked to move to the auditorium. They had the option of masking to attend their classes, staying in the auditorium unmasked or going home.
Some students also used a microphone to address the crowd.
"People, including me, were using the microphone to express their opinion," sophomore Ben Crowley said. "The faculty took away the microphone from us. We want to make our voices heard. No one at school should wear a mask. My body, my choice."
Wednesday's protest came at the heels of a chaotic Board of Education meeting on Feb. 7, where most of the meeting was dominated by public comments about masking because of a temporary restraining order on the mask mandate issued in Sangamon County, Ill. Many families believe Naperville 203's mask mandate is now unlawful. The district said after consulting with attorneys that the order only applied to specific plaintiffs named in the lawsuit.
Board President Kristin Fitzgerald recessed four times during the meeting due to audience non-compliance with Board Policy 4:172, Face Coverings, which requires all individuals in a Naperville 203 facility to be masked.