Athlete of the Week: Questions for Bradford Kuta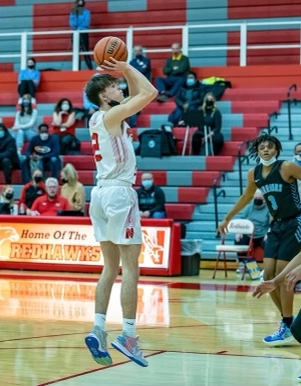 Central Times is introducing a new Athlete of the Week feature where we'll talk to one of Naperville Central's student athletes about their involvement with sports. For our first edition, CT correspondent Lily Goodfellow spoke with senior Bradford Kuta, a guard/forward on Central's varsity boys basketball team.
LG: When did you start playing basketball? 
BK: I started playing basketball probably ever since I could hold the ball. I've always been surrounded by basketball since I was a kid. The first time I really started playing basketball as a team was in kindergarten.
LG: How many years have you played for Naperville Central?
BK: I've played for Naperville Central for four years. It's interesting because I've been with different people on every team. It's fun to get to know more people each year and I've also grown stronger bonds with people over those four years. It's been a great experience.
LG: How often do you practice?
BK: We practice every day except Sundays and game days. We can occasionally have an off day if we need to rest our bodies.
LG: What drills do you enjoy the most?
BK: The drills that I enjoy the most are definitely the ones where we're competing as a team. I like the ones where we are competing as a team and we're going against each other and making each other better. I feel like then we elevate as a team and it's also more fun when we play against each other. 
LG: Have you dealt with any injuries?
BK: I actually have dealt with an injury. Last year I broke my hand. It was my shooting hand and I had to sit out last season. It was a bummer, but fortunately I was still on the team with everybody. It stunk not to be able to support my team. But the best way I could support them was to be on the bench and cheer for them. I am happy to be back this year. 
LG: Do you plan to play basketball in college?
BK: I do not plan to play basketball in college, but I do plan to study my passion in business at a university. 
LG: What is your favorite memory about playing basketball for Central?
BK: My favorite memory for playing basketball for Central easily has to be the locker rooms after wins. The locker rooms are crazy and it's fun when we celebrate after a long game and everyone is happy and we are celebrating as a team.
LG: Thank you, Bradford, for being my first Athlete of the Week!