As much as 40% of positive SHIELD tests in District 203 may be false due to absence of positive retesting
As much as 40% of positive covidSHIELD tests in District 203 may be false due a policy of not retesting initial positive results, according to a graph created by a University of Illinois epidemiologist.
But in a response to a Freedom of Information Act request for records pertaining to the number of suspected false positives due to the covidSHIELD test, the University of Illinois wrote "there have been no false positives," a claim doctors say isn't true.
"That is not a factual statement," said Dr. Tina Tan, former board member of the Infectious Diseases Society of America and current chair of the organization's Inclusion, Diversity, Equity and Access Committee. "Any test, nothing is 100%. So I don't know why they're telling you something like that, because false positives do exist."
SHIELD Illinois' Director of External Relations Beth Heller also acknowledged the existence of false positives and said there were few.
"No test is perfect," she said. "SHIELD is as close to perfect as you can get in terms of accuracy. So false positives, we don't really see many."
The university also denied the existence of any records pertaining to the number of false positives, despite being required to "collect information on the performance of your product… any suspected occurrence of false positive or false negative results," according to the Letter of Authorization sent by the FDA to the University of Illinois.
Polymerase Chain Reaction (PCR) tests such as the covidSHIELD test are regarded as the "gold standard" for COVID-19 tests, according to the Centers for Disease Control and Prevention. Along with other quality assurance measures, a positive retesting policy made false positives a "rare" occurrence for covidSHIELD, the Daily Illini reported in March.
SHIELD Illinois is the "University of Illinois System's initiative to make our innovative covidSHIELD saliva-based COVID-19 test available to K-12 schools, colleges and universities," according to their website. And while the University of Illinois continues to retest positive results from its own students, SHIELD Illinois does not retest positive results.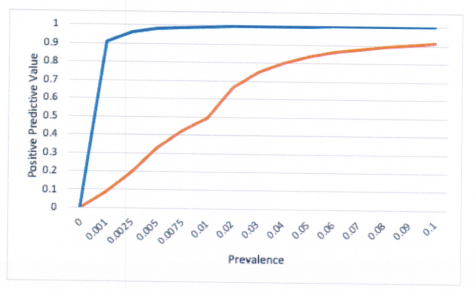 The positivity rate at District 203 between Jan. 27 and Feb. 1 was about 1.6%, Patrick Nolten, Assistant Superintendent for Assessment and Accountability and coordinator of District 203's SHIELD testing program, wrote in an email. According to the graph, at 1.6% prevalence, the accuracy of positive results is about 58% without retesting. With retesting, the accuracy of positive results is about 93%.
This means that for every 100 positive results, without retesting, about 42 would be false positives. With retesting, only about seven would be false positives. District 203 is one example among the 400 school entities, representing a total of 1,700 schools, that have testing agreements with SHIELD Illinois, according to the Illinois Department of Public Health (IDPH).
In May 2021, Managing Director Ron Watkins wrote that SHIELD Illinois did not retest positives in an email sent to the ​​COVID-19 Testing Strategy Coordinator at the IDPH and obtained by Central Times through a FOIA request. Watkins is not a medical professional.
"Due to the decreased resulting time and therefore the potential increase of spread, we believe it's best to send the results right away and not retest," Watkins wrote.
Tan says she disagrees with Watkins' statement.
"That is not a valid reason not to retest somebody," Tan said. "If you have a screening PCR test that comes back positive, you need to confirm with a real PCR whether or not that's true or not. That's pretty much an established medical consensus."
There are drawbacks to retesting positives, however.
"[Healthcare workers] are just really burned out across the board, in part because there are huge volumes [of testing]," said Dr. Joshua Lieberman, professor of Laboratory Medicine at the University of Washington School of Medicine. "But if your laboratory is set up and the staff to handle retesting, then it may be very reasonable."
For quality assurance purposes, the Gift of Hope laboratory, a lab SHIELD Illinois has partnered with to run their test, continued to retest "most, if not all positives," Lab Director Dr. Sam Ho said.
"There's always that chance that [the result] might be a false positive, false negative, so the best course of action is to get a second test to confirm," Ho said. "From my perspective, if my daughter had a positive [result], knowing that we have not been anywhere exposed to the virus, I will totally get her tested elsewhere… We hold the bar pretty high in making sure that the positives are really positive. I cannot sacrifice the quality for speed."
SHIELD Senior Director Yoni Merid also wrote that the Gift of Hope laboratory's "turnaround time for retesting positive is good," according to emails obtained through a FOIA request by James F. Holderman III, the executive director of Protect Parents' Rights, and shared with the Central Times. But in the same email to Watkins where Merid noted the Gift of Hope laboratory's turnaround time was "good," Merid also discussed pushing the Gift of Hope laboratory to stop retesting positives.
"We should push them to make this change," Merid wrote, referring to the retest policy. "But not legally force them like what Len and Andrew are proposing. We do not have a legal leg to stand on to force them to make this change… [Gift of Hope is] our most compliant lab."
Len Musielak and Andrew Greta are Senior Directors at SHIELD Illinois. Neither Musielak, Greta nor Merid are medical professionals.
Beth Heller, Executive Director of External Communications for SHIELD, did not respond to further requests for comment.