Eighth graders visit Central for course selection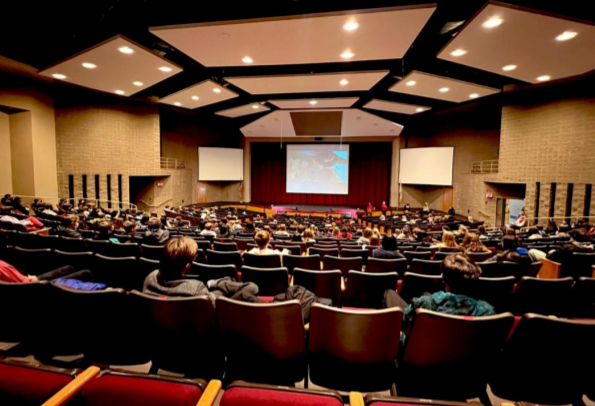 Naperville Central High School was visited by eighth graders from its feeder middle schools as part of the course selection process during the week of Jan. 10.
These visits included a tour and a presentation from department chairs and counselors in Central's auditorium that detailed course options. Students also received Naperville Central drawstring bags along with a list of club and sport offerings at Central.
Assistant Principal of Student Services Angela Ginnan was responsible for the implementation of this program at Central.
"It makes sense to have the kids come here because not only [is it] a little more concise in terms of the service delivery, but they also get to see the spaces which is really cool," she said.
The visits replaced part of the previous eighth grade course selection system, where Central's counselors and department chairs visited middle schools to deliver presentations on course options. 
Counselors will still visit Central's feeder middle schools on Jan. 28 in order to finalize eighth graders' course selections.
The idea was originally pitched by Naperville North High School's administration, and both schools used it in 2022.  Its use will likely continue for years to come.
"We hope that it will remain permanent," Ginnan said. "I think both us and Naperville North saw and heard a lot of positive feedback."
Some of this positive feedback came from Lincoln Junior High School 8th grader Malia Shen, who visited Central on Jan. 11 with her classmates. After attending the course presentation, Shen was led on a tour of Central by a NCHS School Ambassador.
"It was good to see the school and the tour helped with finding out where different sections of classrooms are," Shen said.
These tours often were led during lunch hours and passing periods, allowing visiting eighth graders to see the practices of Central students.
"I thought it was kind of helpful to see what they did during lunch," she said. "You get to see what your choices are and what you get to do."
This visit ultimately helped Shen feel more connected to her future school.
 "I feel more excited because now I kind of know what I should expect going back," she said. "I just have a better overall understanding of all of the classes."