'Teacher by day, rockstar by night'
High school geometry teacher juggles her job with another passion
I wouldn't have guessed Kari O'Leary was part of a band.
She's a Northern Illinois University graduate who teaches geometry in Room 302 as well as a math team coach, and when I met her in the math office, she wore a bun fixed upon her head. I watched it bob as she walked toward me. Save for a few tattoos and her heavy, black mascara, she looked right at home in a Naperville Central sweater in the math office.
It's kind of her slogan though. I'm a "teacher by day, rockstar by night," O'Leary said. "It's kind of silly, but my friends all think it's funny because it's true; I literally live two lives."
It was in college where she found teaching.
"My parents refused to pay for college if I was going to major in drumming, they said no, you need to pick a career path that's actually going to make you money. So then I was like, 'I'll be a teacher because you can make so much money teaching,'" she said as she rolled her eyes.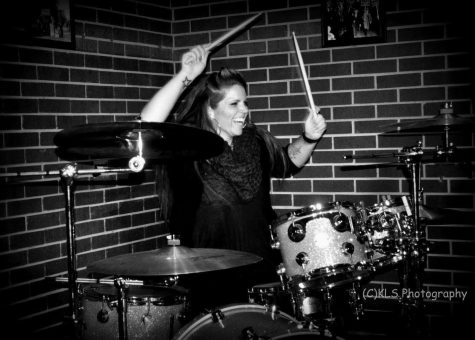 It was also in college when O'Leary's drumming career took off.
"In college, a friend of mine approached me about joining a cover band," she said. "That one exploded. It was called Black Cadillac and that was like probably the biggest, best band I've been in yet. We played at the Hard Rock Hotel in Chicago on New Year's Eve. We got to play at Wrigley for a Cubs game. You name it, we played it."
Unfortunately, her dreams of being signed to a label never materialized. Regardless, O'Leary is happy with where life took her.
"[Teaching] wasn't what I had originally hoped for," O'Leary said. "But if what I thought was my dream worked out, I wouldn't be where I am today. I wouldn't be here at Central. I wouldn't be married to my husband, who's also a musician. We wouldn't have our daughter. Everything would be different, and I love my life. I love everything. It totally worked out great."
After having her daughter, O'Leary took some time away from band, but recently, she's gotten back to drumming.
"
I am positive I was born to drum."
— Kari O'Leary
"I took a little bit of time off of the band scene, because I was doing the mom thing," O'Leary said. "But then I realized something in my life is missing. What could it be? Obviously, it's the drumming. So then recently, I started doing it again, in the last couple years. Currently, I am in a tribute band called Zer0."
Zer0 is a tribute band to The Smashing Pumpkins. O'Leary also joined another band, Grunge Candy, after their drummer quit. As the drummer of two bands, a mother and a teacher, O'Leary has to split her time.
"I don't sleep," O'Leary said, laughing. "It's a struggle. So like, for example, I'm in two bands now. And we practice once a week. So like, this week, I've already had two band practices in the evenings from like, the one practice is from like, 6:30 till 10 p.m., and I have to drive 45 minutes to get to that practice. It's a late night."
O'Leary is also diagnosed with multiple sclerosis, a potentially disabling disease of the brain and spinal cord, according to the Mayo Clinic.
"I always tell my friends, even if I end up not able to walk one day or like in a wheelchair, I'm going to find a way to keep playing," O'Leary said. "I always think that's so funny. It's me. It's who I am. I want to be drumming forever for the rest of my life. I will probably keep playing the drums longer than I end up teaching, because even when I retire [from teaching], I'm going to keep wanting to play drums."
Phil Collins, the lead singer and drummer of the band Genesis, whose health problems have prevented him from holding drumsticks, has been one of her inspirations, O'Leary said.
"So he had these gloves where the sticks would stay in his hands so he'd be able to still play," she said. "So I just look at situations like that where I'm like, oh my God, anything is possible, literally anything."
Rick Allen, the one-armed drummer of hard rock band Def Leppard, is another.
"The drummer for Def Leppard literally has one arm. He has one arm! So I feel like where there's a will there's a way," she said.
When O'Leary asks her students what career they're planning on pursuing, she often gets an answer of professional sports.
"That's awesome, and I hope that that works for you," O'Leary said. "In case it doesn't, though, you can still do it. Even if I didn't tour the world in a band, I'm still playing on stage. So it's still possible to do the things that you love."
Brandon Estes, O'Leary's friend and Naperville Central's Associate Director of Bands, agrees that music is a versatile activity.
"The beautiful thing about music specifically is that you don't have to do it for a living to be able to do it," Estes said. "Music can be individualized. You can be in a practice room, you can be in a bedroom, you can be in your car."
I wouldn't have guessed Kari O'leary was part of a band, but if you ever talked to her about drumming, you'd see why.
Follow Kari O'Leary at karianndrums on YouTube.