Nintendo Switch OLED release met with criticism by fans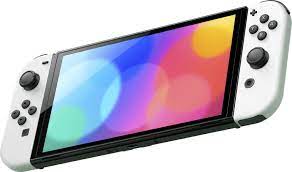 The lack of changes to its new Switch OLED (organic light-emitting diode) model has forced Nintendo to endure many harsh criticisms by fans of gaming.
Nintendo released the controversial revised Switch model to most retailers on Oct. 8. Fans have taken to Twitter and other social media platforms to express their discontent while others are praising Nintendo for the much needed upgrade.
According to the Nintendo website, the flagship difference is the seven-inch OLED display on the new model compared to the old 6.2-inch LCD screen. However, the new Switch OLED is still using the same CPU as the 2017 Switch model.
Sophomore Luka Van Osdol owns both a Switch and a PC. He built his own PC and learned the functions of different parts of gaming devices. Van Osdol said he was concerned when he found out that the Switch OLED would be using the same CPU as the 2017 Switch model.
"A CPU is the core processing unit of a device; it's essentially the brain of a computer. It basically makes sure everything runs smoothly," Van Osdol said.
Sophomore Ziad El Bego is part of Central's eSports club and owns the 2017 model. He had high expectations leading up to the Switch OLED announcement, but when the specifications were released, he was disappointed and decided the purchase wasn't worth it.
"The improvements they made seem minimal, and there was a lot of anticipation for what they could have added," El Bego said.
Junior Samuel Gardner purchased the Nintendo Switch OLED. Gardner is a big Nintendo fan so it was a no-brainer for him when it came to deciding whether to purchase the upgraded model of the Switch or not. He understood where the frustration was coming from but thought consumers weren't focusing on what they got instead of what they didn't.
"After using it I feel it's actually quite a bit of an upgrade compared to the last switch, especially in the handheld mode," Gardner said.
Gardner went into the announcement with low expectations so he was pleased with everything the Switch OLED had to offer, he said. He thought that the community's high expectations is what caused this controversy and outrage.
"I think it's over hated and people need to try it first to see how they like it," Gardner said.
Nintendo reported that they sold 314,000 units of the Switch OLED in October. Within the first month of its release, the original model of the Switch sold over two million units. It's clear that many of the owners of the original model are unhappy with the upgrade.