Review: La Borra Cafe a welcome addition to downtown Naperville
Cameron Rozek, Editor-in-Chief & Head News Editor
December 6, 2021
The popular Mexican cafe franchise La Borra Cafe opened a store on November 22 at the old location of the Naperville General Store on the corner of Jefferson Avenue and Washington Street.
The franchise chain has about 70 locations in Mexico and five in the U.S. according to their website, with plans to open about 300 more throughout Texas, California and the Chicagoland area. The establishment has two different names appearing as trademarks in different places throughout their branding: La Borra Del Café and La Borra Cafe. I am unsure which is the company's official name, but this location's sign says Laborra Cafe.
The two most important pieces to a coffee shop, especially to students, are its coffee and ambiance. I was excited to explore what La Borra had to offer. My current go to place to visit and study is Sparrow Coffee on Water Street, which is the primary competitor in the downtown area.
Let's start with the menu itself. After all, the quality of the product being purchased is ultimately what keeps customers coming back. The coffee itself here is not bad at all. I would place it well above Dunkin' or even Starbucks level, but Sparrow Coffee still has a slight edge in my opinion. I tried some espresso drinks as well as their drip coffee, both of which tasted good enough that I would come back. From what I can tell, they use one roast for the coffee they serve which they call their House Blend. It's a darker roast with a consequently full body and low acidity, which is a combination I tend to like in coffee, though your taste may vary.
For my non-dairy friends, La Borra offers just about every plant-based milk, but it does tack on an additional charge. If you like your drinks on the sweeter side, they use Monin brand syrups to flavor drinks, which definitely fall short of the house-made syrups at Sparrow but are otherwise as good as premade syrups can get.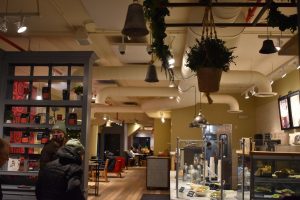 Beyond coffee drinks, the menu has a sizable collection of pastries and made-to-order hearty breakfast style items including toasts and sandwiches. In addition, they have a few smoothie options, I tried the raspberry one and found it to be delectable. From what other customers told me, many of the drinks lean on the sweeter side if you do go for something beyond just coffee.
The way I see it, the food and drink options are right on the money, nothing too crazy or out of this world, just a solid selection of cafe items which I can appreciate. If anything, I do feel like a lighter or medium roast might bring out a bit more excitement in the espresso drinks.
Prices aren't bad either, competitive with just about every other coffee shop around here, but in my few visits I did stumble upon a number of surprise sales and special offers along with their rewards program that earns points to free items, which is always a nice kickback.
In my opinion however, La Borra Cafe really shines when it comes to the cafe ambiance. Like many students, I enjoy taking my work somewhere outside the house since it helps me focus a bit more, and a cafe is always my first choice. One of the downfalls of Sparrow is that it can get deafeningly loud when it's without fail packed full all the time and everyone is seated shoulder to shoulder with little table or leg space.
La Borra Cafe absolutely knocks it out of the park in terms of ambiance. The long and narrow shape of the space makes for a diverse set of seating options. There are couches and lap tables, typical tables, bar style seating and even an L-shaped wooden pew in the back corner. The environment feels much cozier than Sparrow and the noise is far more bearable with all of the interior elements and low ceilings. I noticed the sound deadening panels along the ceiling to aid in dampening echoes, a simple and effective solution to one of the downfalls of Sparrow.
The venue establishes a nice homey feel and has chosen to keep some of the hanging plant lattice from the French bakery that previously occupied the space. I also found it nice to see some of the old shelving and flooring from the Naperville General store still present and in use. The neat artifacts like a hanging bicycle and old, raised, hardwood floor that echoes when walked on adds a unique bit of character to the cafe.
The theming and decoration is frankly much more comfortable than that of Sparrow, and despite the coffee being a bit of a step below, I think I will find myself studying more often at La Borra Cafe due simply to the more comfortable atmosphere. Not to mention, they have a pet friendly policy, so the occasional dog will stop in too.
As we all know, prime property like that on Washington doesn't come cheap. The prices here aren't absolutely outrageous when compared to the food you get. That was the main downfall of Le Pain Quotidien, the previous business to occupy the space. I hope that business stays steady for La Borra Cafe as I would like to see a nice cafe to stay around.
Downtown Naperville, in my opinion, is in need of more cafes or bakeries. At the moment, we are overloaded with ice cream shops opening left and right, but for students like myself, a quiet cafe with good coffee is always a welcome addition.