Naperville residents smash pumpkins to help the environment
Naperville residents smashed their old jack-o-lanterns to fertilize soil at the fifth annual Pumpkin Smash on Nov. 6.
Hundreds of families brought their Halloween pumpkins to the Ron Ory Community Garden Plots on 811 S West St. Parents threw the pumpkins on the soil while children stomped on the pumpkins to grind them into bits.
"It's just fun," first time participant Ben Schluckebier said.
Here's how it works.
First, residents take their pumpkins to the garden. Then, volunteers unload and measure the pumpkins. Finally, participants get to smash and stomp their pumpkins into the soil. The pumpkin pieces get plowed into the ground, fertilizing the soil for next spring.
Residents not only smashed pumpkins, but records. Official figures from the Naperville Park District press release said that 22,416 pounds of pumpkins were smashed, up more than 7,000 pounds from 2020.
This success is thanks to the dedication of hundreds of volunteers, including Naperville Central students, who helped direct participants. The Young Men Service League , a national non-profit organization, helped supply most of the volunteers.
"It feels great to help people, especially on such a nice day," Central sophomore Alex Bird said. "That's why my friends and I have so much fun helping out."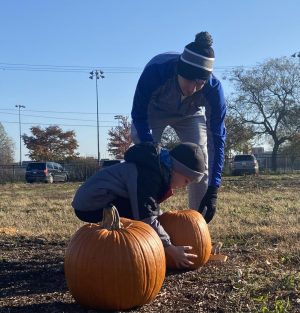 But beyond being an exciting activity for participants, smashing pumpkins helps Naperville by combating climate change and pollution.
"Most of the 900,000 tonnes of pumpkin produced annually will be trashed, rather than used as food or composted," the World Economic Forum wrote in 2019.
"Pumpkins that end up in landfill will decompose and eventually emit methane – a greenhouse gas with more than 20 times the warming effect of carbon dioxide."
Instead of throwing away pumpkins, smashing them means that they become compost, fertilizing the soil. This minimizes the harmful effects of disposing pumpkins.
"Smashing the pumpkins here really does make a difference," volunteer Jack Lehr said. "Come next year. It's a great time to be outside, it helps the community, and everyone has a good time."