Naperville restaurants struggling with staff shortages caused by COVID-19
The nationwide labor shortage caused by COVID-19 is taking its toll on Naperville businesses, especially restaurants, which typically employ low pay and entry level workers.
As a result, restaurants have shortened hours of operation and increased the workload of remaining staff members in order to deal with the lack of manpower.
At the Potbelly Sandwich Shop in Naperville Crossings on Washington Street, crew member Britten Beallis works 10 hours a week in addition to being a student athlete. That is on the low end of what other crew members work.
"Guys here work seven days a week and they're students," Beallis said.
The same issue is present at the Jimmy Johns on Jefferson Avenue, where staff work 30 to 40 hours a week each. Sam Carpenter has been the area manager for Naperville Jimmy Johns for seven years, and the past two years are unlike any before. The crew at this Jimmy Johns is currently 15 people, far below the typical 25 it had employed in the past. A large factor in this change is the pandemic.
"COVID scared a lot of people," Carpenter said.
This trend is not only affecting restaurants, but also other businesses around the area, such as the Target on Jefferson Avenue, which is also suffering from understaffing. Senior Alan Zhang worked at this Target, but is taking a break right now.
"I had concerns about COVID," Zhang said.
There are additional factors that have affected the amount of people on staff. For Zhang, school is another barrier to working.
"I worked 30-35 hours a week during the summer," Zhang said. "I can't do this. So I went down to 15-20 when school started and I don't work right now."
Additionally, places such as Potbelly have to deal with people leaving the area for college. Now, the staffing is mostly left to the high school students and their adult managers.
Other supply chain issues brought by the pandemic have added additional stress to the waning staff.
"We see a lot more deliveries this year," Carpenter said. These deliveries are smaller and don't always have everything the restaurant needs due to the warehouses also experiencing labor shortages.
To combat these struggles, both Potbelly and Jimmy Johns have shortened their store hours. Jimmy Johns is also offering higher wages to employees to combat the increasingly competitive market.
This trend holds true throughout much of Naperville and the surrounding area, with many businesses placing permanent "now hiring" signs in their windows.
Leave a Comment
About the Contributor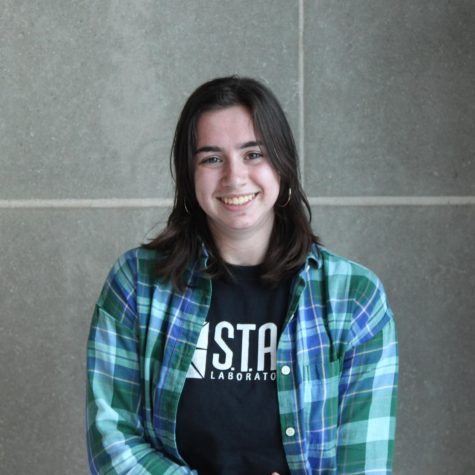 Evelyn Krupicka, Entertainment Editor
Evelyn Krupicka is a senior at Naperville Central. Outside of Central Times, she is on the leadership board for GEMS and is a member of Senior Class Council. In her free time, Evelyn fences and blends blizzards at Dairy Queen. In the future, she plans on going into forensic science.