Drone photographer captures Central's football team
Jeremy Zhao, Community Editor & Copy Editor
November 10, 2021
Junior Garron Donovan has almost crashed a drone into one of the football coaches at Naperville Central.
"I looked really cool doing it," he said. "But it was completely unplanned and I just got lucky."
Donovan is the drone videographer for the Central's varsity football team. This is his third year working with the team, but his first two years, he was a ground photographer.
Donovan is a part of a modern shift in sports analysis. As sports become more and more competitive, teams are finding new ways to gain an upper hand over the competition. For the football team, this means new technology, like drone photo and video.
"I always enjoyed filming, but it wasn't until this year that we started with a drone," Donovan said. "It's not like a flashy or fancy job necessarily but it's kind of fun and needs to be done."
The drone Donovan uses is a DJI Mavic Mini provided by the school. Weighing only 249 grams, the drone isn't subject to the flight restrictions of a heavier drone, making it portable and versatile. The $500 drone shoots in 2.7K resolution and has a built-in phone mount, allowing Donovan to see what the drone sees.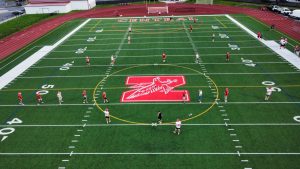 As soon as practice starts every afternoon, Donovan sets up next to the field. As the team practices, Donovan films from the sky to provide a better vantage point for later review.
"We can capture practice from a vantage point that is just really helpful to evaluate what we're doing," said Mike Ulreich, head coach of the varsity football team. "Garron will film some key segments of practice. And then the next day, we'll watch those segments together to make corrections."
Not only does Donovan attend daily practices, he films Friday night games as well. With a drone, the coaching staff and players can see aspects of the game they wouldn't normally see.
"The nice thing about what Garron does with the drone is he films from behind," Ulreich said. "Especially for our linemen, we can see their pad level, their technique, their footwork, while getting all 22 players in the shot."
The holistic nature of drone footage is perfect for a sport as positionally complex as football. Eyes from the sky allow the coaches to see the big picture and the little details. Ulreich says that he looks at "a million small things": player routes, blocking double teams, and even blitzes on the quarterback.
In a week, Donovan can spend ten hours filming with the football team. As a high schooler, such a big commitment can make it hard to balance schoolwork and other extracurricular activities. But, Donovan finds a way.
"I always go to practice," he said. "It's not really like I'm going to show up today and not show up tomorrow. So if I'm going to be committed to something, I'm not going to be committed halfway, I'm going to be committed 100%."
While Donovan doesn't have a spot on the roster, Coach Ulreich says his role makes him an honorary member.
"His role is one that people wouldn't know about or really wouldn't understand how critical it is without asking us," Ulreich said. "It's really been very valuable to us and we're gonna miss him like crazy when he's gone."