Review: 'Dune' is a rewarding start to a story with potential
The arrival of "Dune," starring Timothee Chalamet and Zendaya, was a resounding success, pulling in over $40.1 million in the film's opening weekend after its release to theaters and HBO Max on Oct. 22. This success has already led to the reveal of a sequel, which will be released in October 2023.
"Dune" tells the story of a boy named Paul Atreides. As the heir to a powerful family, Paul is burdened with the responsibilities of his father as well as the things he begins to discover about his connection to a dangerous and distant planet. Because Paul is gifted with visions of the future, "Dune" follows the tale of Paul's present, but also what lies ahead.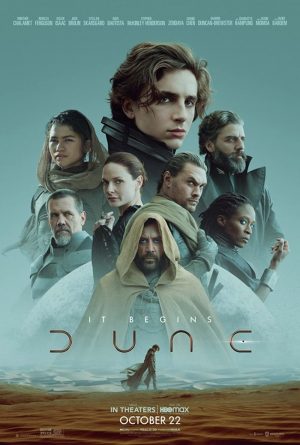 From the very beginning of the movie, I was drawn to the atmosphere created by the music of Hans Zimmer, paired with aesthetic, high-quality visuals.

I was also impressed with the quick but thorough explanation of the backstory of the movie. The dialogue at the beginning of the movie did an excellent job of bringing me up to speed.

The thing that I enjoyed most about the movie was the natural scenery of the forest planet Caladan, which is contrasted with the harsh and balmy atmosphere of the desert planet, Arrakis. There were several brief appearances of secondary settings, both of which were very fascinating and unique. The choice of settings in this movie was spot on, strengthening the themes and personalities of the numerous characters.

One thing that confused me was the amount of screen time given to Zendaya. In the 155 minutes of total screen time for "Dune," Zendaya appears for a total of seven minutes according to the Los Angeles Times. This disappointed me, because a major component of the movie's advertisement campaign was dedicated to Zendaya and her pivotal role in the movie.

This movie was also very obvious in its role as a "part one." It felt like most of the movie set up all of the cool things that may happen in the second part. While this was unfulfilling at times, I feel like it will ultimately be worth it when it all comes full circle in the sequel slated for release in late 2023.

Reading the book seems much more enticing now that I have seen the movie, as I am very curious about the more fine specifics of the politics and cultures of the people within the story.

Overall, I found the movie to be engaging, atmospheric, and undeniably beautiful. With a talented cast and gripping music, "Dune" is definitely worth watching on the big screen.

Warner Bros. Pictures