Column: Blown coverage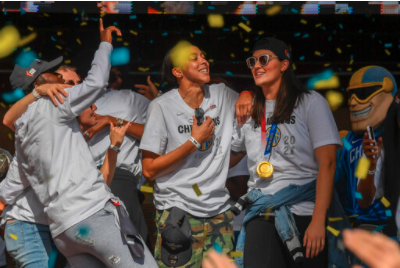 As I sit in class, I hear boys behind me discuss how they hadn't even heard about the Chicago Sky being in the WNBA finals until they had won. It's all too familiar.
The Chicago Sky, led by Naperville Central grad Candace Parker won the Women's National Basketball League finals on Oct. 17. Although Parker has played in three finals, anchored for ESPN and won countless awards for her athletics, she and women's sports are not getting the same coverage as professional male athletics.
While ESPN was showing college football, the WNBA finals game three was on ESPN2 on Oct. 16. Luckily game four, the final game, was broadcasted on ESPN, which helped professional women's basketball gain national recognition. The question is, why weren't all of the final games on ESPN?
The problem at hand is money. While women's sports are in desperate need of national attention and coverage, men's sports bring in real money for networks. It is the sad truth that needs to change.
"
Women's professional sports have been pushed to the background for decades, overshadowed by men's athletics."
It goes full circle. Money equals coverage, but coverage also equals money. The angle with which the networks and companies approach the issue of gender equality and change depends on both money and amount of coverage.
Why is it still imprinted in our brains that "men are more athletic" than women? Because people have grown up with men's athletics printed all over television screens and women's sports are hidden throughout the networks channels.
Girls' high school sports tend to have less coverage than male sports as well. Women's fall sports such as girls tennis or volleyball seem to not receive the same amount of student support, financial support or coverage as men's fall sports such as football.
However, this is completely different at the high school level from professional sports due to Title IX.
"No person in the United States shall, on the basis of sex, be excluded from participation in, be denied the benefits of, or be subjected to discrimination under any education program or activity receiving Federal financial assistance," The U.S. The Department of Education says on their website. To what extent does "discrimination" coalign with unfair coverage of women's and men's sports? Completely.
Female athletes typically cannot make a living off of being an athlete. They must work two jobs or search for advertisements and endorsements by themselves while men can simply get advertisements from playing in front of a national audience, while also getting paid lots of money from the sports teams themselves.
To solve this issue, networks must work together to cover women's and men's sports equally on channels that receive the most national attention. Put the WNBA finals on ESPN, not ESPN2. Cover female athletes more.
Parker's name should be known across the United States and across genders, not just in and around Chicago by a few people. Let's change the unfair gender coverage that sports currently have. We must make the change now.