'Julie and the Phantoms' is not just for kids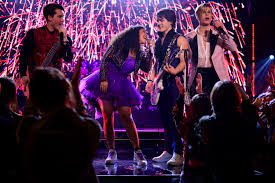 Earlier this month, Netflix released a new show called "Julie and the Phantoms," which is geared towards a younger audience. However, I believe that it is binge-worthy no matter what your age.
I'll admit to you, I was not planning on watching "Julie and the Phantoms" until it started to take over my for you page on Tiktok. I was not disappointed. Kenny Ortega, the creator of "High School Musical" and "Descendants," directed this show. While that might be a turn-off for some non-musical fans, I'll let you know that in this show, no one starts randomly singing or dancing.
"Julie and the Phantoms" starts with a band, Sunset Curve, who is about to take the stage at the Orpheum, a prominent theater in Hollywood. To celebrate, three of the four band members go out to get street hot dogs. Long story short, the hot dogs were contaminated and killed the band. Skip forward to 25 years later, and the main character, Julie (Madison Reyes), is going through her mom's old things. Her mom passed away a year prior and Julie found herself unable to do anything that reminds her of her mom, especially play music. Julie finds an old CD labeled "Sunset Curve" and when she plays it, three ghosts appear, the same three band members as the start of the episode. With their help, she plays music again and starts to experience life in a new light. They discover that when Julie plays music with the band, they become visible to the living. This ability to be seen and heard gives the band hope, but also brings unwanted attention from not-so-friendly spirits.
Overall, I enjoyed this show. First off, the characters are all around likeable and the show included BIPOC (black, indigenous, and people of color) and LGBTQ+ representation without creating them as "token" characters. In particular, they did not make a LGBTQ+ character whose whole personality revolved around their sexuality, a trope seen far too often in modern media. The character Alex (Owen Patrick Joyner) was known for his intelligence, not his sexual orientation. Luke (Charlie Gilllespie), the heart of the band, brings many special moments to the show. And, just like any good show, there is the comic relief character with a heart of gold, Reggie (Jeremy Shada). The band helps better one another and even in a short nine-episode season we get to see some great character arcs. I really look forward to seeing how these characters will develop in the second season.
As always, any musical show isn't complete without the music. I have been playing the songs from "Julie and the Phantoms" on repeat and still have not grown tired of them. Most of the songs are very feel-good bops that are great for getting your morning started. Since the show was written for a younger audience, there are some cheesy moments, but overall, I'd give this show a 9.8/10.