After peaceful day protests and nighttime looting, Naperville residents band together to clean up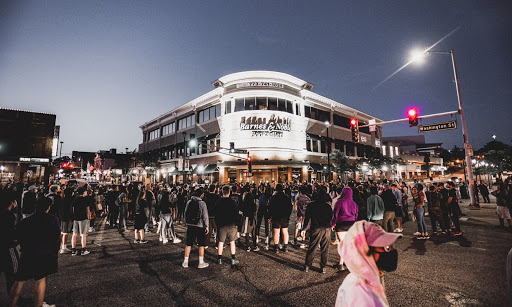 A peaceful protest was held in Downtown Naperville Monday, one among hundreds happening across the country in response to the death of Minnesota resident George Floyd. While protests remained peaceful during the day, looters entered the area after a police- imposed curfew, resulting in the vandalism of over 30 businesses and multiple civilian and police injuries.
Word of the protest, which began at 3 p.m. on the corner of Washington Street and Chicago Avenue, spread through social media posts. Naperville Mayor Steve Chirico joined protesters in taking a knee before they began to mobilize, NCTV17 reported.
According to Naperville Police Department Chief Robert Marshall, around 400 protesters were present at the beginning of the demonstration.
Protesters marched their way to Naperville Police Department headquarters while chanting phrases such as "I can't breathe" and "Black Lives Matter." At the station, Chirico again kneeled, then addressed the crowd. City councilman Benny White spoke afterward. 2020 Naperville Central graduate Jaeden Howell also spoke about the racist experiences he has had in Naperville, specifically at Central.
Protesters marched back to the Downtown Naperville area and waves of protesters flooded in and out throughout the day. Additionally, at 6 p.m., a separate peaceful sit-in was held on the corner of Chicago and Washington, which lasted roughly an hour.
Rising Naperville Central junior Elijah Trannon, who participated in many of the local protests in the wake of the George Floyd incident, believes Monday's protests were largely successful in bringing Naperville's residents together.
"
The unity is what's going to fix the problem."
— Elijah Trannon, rising Naperville Central junior
"Over 800 people showed up, that was really nice to see," Trannon said. "The amount of diversity there was also great. The unity is what's going to fix the problem."
At 7:30 p.m., the mayor and police department issued a state of emergency, imposing a 9 p.m. to 6 a.m. curfew. Less than half an hour away from said curfew, protesters were still chanting and demonstrating downtown. NCTV17 reported that water balloons and bottles were thrown around, but protests remained relatively peaceful.
"We had to end early because of threats of people joining [who] had bad intentions," Naperville North junior Maddy Wertz said.
After a loud boom was heard at 9:30 p.m, many protesters dispersed and individuals not associated with earlier protests began to damage and loot buildings. Sullivan's Steakhouse, Pandora and Lush were confirmed to be looted, and other stores, restaurants and buildings, including Nichols Library, sustained window damage.
"Seeing what happened to the other restaurants around us just seemed so senseless," said Veronica Solis, general manager of Lou Malnati's Pizzeria. "I literally cried when I saw Sullivan's window get smashed."
Naperville police spent the next four hours addressing both peaceful and aggressive protesters remaining in the area, making 11 arrests, according to Marshall.
"On June 1, the NPD, which was assisted by numerous law enforcement agencies, addressed incidents of looting, vandalism, and other acts of violence in the downtown area. As of 1 a.m. on June 2, the downtown area has been secured," the police department tweeted.
Many shops and public buildings like Nichols Library and Naperville Running Company tried to avoid looting by closing earlier in the day, heeding guidance from the city.
The police department released this statement at noon on Monday: "Out of an abundance of caution, the City of Naperville is closing City Hall… and suggesting that downtown businesses close as well due to multiple, unconfirmed reports of protests planned throughout the western suburbs."
Despite the events that occurred Monday night, Naperville residents awoke with hopeful determination to clean up their city. The cleanup was organized mostly through social media. People began cleaning around 7 a.m. Tuesday morning, though many arrived at daybreak, bringing their own brooms, other cleaning supplies and masks. By around 8:30 a.m., most of the volunteer work was finished. Local businesses even offered free Chick-fil-a, coffee and pizza to volunteers.
We're all here to support everyone," Solis said. "If they need anything, continue to reach out to the businesses around them. This is our town."