First week of e-learning considered a success as district staff, students respond to evolving quarantine directives, implications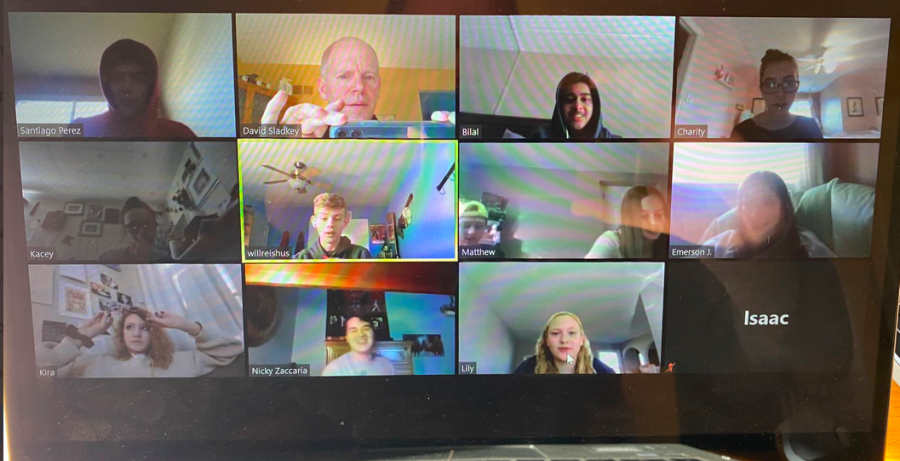 On March 20, Gov. J.B. Pritzker issued a "shelter-in-place" order and announced that all Illinois schools will be closed until April 8, extending District 203 schools' shutdowns beyond April 6. The directive followed a series of measures aimed towards halting the spread of COVID-19, otherwise known as the coronavirus.
"Generally, we are following the guidelines of the state," said Sinikka Mondini, District 203's Executive Director of Communications. "Prior to school closing, we were taking guidance from the county health department. Now [the state] is taking control of the situation."
Pritzker declared school days from March 17 to April 7 to be "Act of God" days, which means schools are not required to make them up at the end of the year.
Act of God days are "used for a condition beyond the control of the district that poses a hazardous threat to the health and safety of the students," according to the Illinois School Board of Education.
Though schools were not required to implement e-learning plans during this time, District 203 continued classes online.
"We did not have a state-approved e-learning plan prior to this," Mondini said. "We were in the early stages of developing that plan for snow days. We had to ramp [it] up very quickly and the state loosened up restrictions pretty quickly for this."
E-learning
Following the district's March 13 announcement that schools would be shut down, classes were cancelled the following Monday for an emergency e-learning meeting among district staff. The district spent the weekend designing a framework for e-learning which was communicated to staff on the evening of March 15 through online resources posted by the Learning Services department.
While teachers originally planned to meet on March 16 for the e-learning rollout, Monday was instead adjusted to independent teacher training and virtual planning, discussion and implementation after the Centers for Disease Control and Prevention (CDC) advised against hosting events with over 50 people for the next eight weeks.
Despite the abbreviated rollout timeline, e-learning has been going "fantastically," Mondini said. "It's really impressive. All you do is go to Twitter to see teachers who are posting pictures of their work [and] interacting with students via Google Hangouts or Zoom."
For classes like band, in-person instruction is highly important as students often practice as an entire group. Though this is no longer possible due to recommendations against gathering in large groups, teachers across all departments are now utilizing different technological tools instead.
"Thanks to the support of our district, we have had the great fortune of utilizing wonderful digital music platforms for practice and performance, even before our current situation," Associate Band Director Brandon Estes said. "These platforms are proving to be extremely helpful during this difficult time. Our goals are not to create busy work, but enrichment activities for fine tuning their fundamentals individually."
Likewise, while part of the AP Chemistry curriculum includes labs conducted with school equipment under the supervision of a teacher, students are using online simulations instead.
"Of course, a simulation on the computer is not the same as actually performing the lab, but it is the best we could do at this point," AP Chemistry instructor Jacquelyn Barker said.
Students often play sports or games with one another and use Central's weight room and cardio room in physical education classes, which are typically taken every year. With the shutdown and "shelter-in-place" order, however, the usage of school facilities and large group gatherings are no longer feasible.
"
It's really impressive. All you do is go to Twitter to see teachers who are posting pictures of their work [and] interacting with students via Google Hangouts or Zoom. "
— Sinikka Mondini, Executive Director of Communications for District 203
Physical education instructor Kristen Anderson is now using online discussions to encourage students to remain fit.
"I'm trying not to add stress to my students, but encourage them to move each day," Anderson said. "I am having my upper classmen post each day about what they are doing to stay active and how they are feeling emotionally. I have also included a fun question and a bonus physical challenge each day. My freshmen need more guidance, so we are giving them exercises to perform and post pictures or videos."
In addition to the new platforms, the transition to online learning includes changes to several elements of the school day. Students must report their attendance online for each of their classes, a popular method being through Google forms. Lesson plans are posted by 9 a.m. each day, approximately an hour later than the high schools' typical start time of 7:45 a.m.
Despite the changes, the continuation of instruction is appreciated.
"I think it's good that we're still trying to learn," senior Rishabh Jain said.
Grading
For many students and staff, the sudden changes in instruction delivery led to confusion on grading policies, with evolving directives over several days that slightly altered some procedures during the first week of e-learning.
"Didn't the [Illinois School Board of Education] say that we can't [be] penalized for anything during this time because it's an Act of God day and that attendance doesn't matter?" Jain asked. "Many teachers are still giving assessments and points. It would be nice if they were a little more transparent."
In a March 17 webinar, the Illinois School Board of Education (ISBE) clarified that during the time of school closure, assignments cannot negatively impact a student's grade.
"Schools may allow student work to count during the closure ONLY to increase a student's academic standing," according to the ISBE.
The policy is in line with the district's e-learning plans.
Superintendent Dan Bridges "doesn't want this time to be something that negatively impacts students, either emotionally when they see [zeroes] or that their grades go down," Mondini said. "I do believe that the teachers are trying to keep track. I don't know that we're actually entering grades into Infinite Campus but they're collecting data and we're going to have to see how this plays out."

Food service and internet access
School closures across Illinois raised concerns about "equity and access," which Mondini noted was one of the district's top concerns as well.
Students who qualify for the free and reduced-priced lunch program may rely on schools for meals, a consideration that complicated the district's initial decision to cancel school prior to the government's shutdown. Even as plans were being made to implement e-learning, others were working on alternatives to provide this assistance for students in need.
Starting March 16, the district and Aramark provided grab-and-go meals to be picked up between 11 a.m. and noon at either Naperville Central High School, Jefferson Junior High School or Scott Elementary School. The next pick up day is Wednesday, March 25, when families can pick up three days' worth of meals. According to a March 20 district message, food service will continue through spring break.
Some improvising has been required to ensure that these meals reach those who need them.
"There are some families that don't have the capacity to get to those three [pick up] locations," Mondini said. "Initially, we had a small list of families that we were bringing food to. [Student Services was] outreaching to families that they were concerned about and you know, setting up delivery if needed."
The district plans to expand food delivery.
"We might bring buses to certain locations where we'd have more food for more families," she said. "Trying to get [meals] as closely to the people in need as possible, [that's] our goal."
Like food service, the lack of Internet access can hinder students from effectively transitioning to e-learning. In response, the district provided hotspots to families that needed them and is working with students who do not have devices.
"If a family doesn't have anything at home to access communication with the teachers, then we're working with those families directly," Mondini said. "It feels like no problem should go unsolved."
Mondini added that families should contact the school and district regarding potential obstacles.
"Families- if they have a need that is unique to their family- should outreach to their building administrator [and] outreach to their social workers," Mondini said. "We're going to do our best to help every family in need."
Community members can assist District 203 in helping these families by providing donations through the Naperville Education Foundation's Kid Booster Crisis Fund.
Future plans
Perhaps one of the greatest adjustments forced upon school communities has been learning to handle the uncertainties created by this situation. Though seniors are concerned about their proms and graduations, the district does not yet have plans to postpone or cancel those events.
"We're talking with vendors [for graduation] already to say, how late can we wait to make this decision?" Mondini said. "Because we don't want to make that decision right now. It's not something we can even make at this point."
It's difficult to tell when the district can make that decision, she added.
Juniors, sophomores and freshmen also face uncertainty due to a series of cancellations including that of the March 14 and May 2 SAT. State testing matters, however, including the statewide SAT administered to juniors, cannot be decided by the district.
"Every district has to do the same thing when it comes to state testing," Mondini said.
On March 20, the College Board also announced changes to AP testing. The tests, which typically last two to three hours and include multiple choice and free response questions, will now be 45 minutes long and solely consist of free response questions. There will be two testing dates for each subject and students may take the tests at home.
The changes are "so new that we'll know more next week on that," Mondini said.
Barker noted that her AP Chemistry classes finished the majority of curriculum prior to the school shutdown.
"The College Board has decided to cut the last two units of material and only test on the first 75 percent of material covered," she said. "We had learned all of that material and had performed all of the labs suggested during those units prior to the shutdown."
Combined with self-quarantining, Pritzker's "shelter-in-place" order and schools closing down, many students are struggling with feelings of isolation.
"I've just been extremely bored and really sad that I can't see my friends that much," senior Corey Pevitz said. "It's been really disappointing to miss out on many fun opportunities, especially in my senior year."
Mondini cites students' socioemotional health, in addition to equity and access, as one of the district's top concerns.
"This is not the same thing as school," Mondini said. "It's not the same kind of learning."
About the Contributor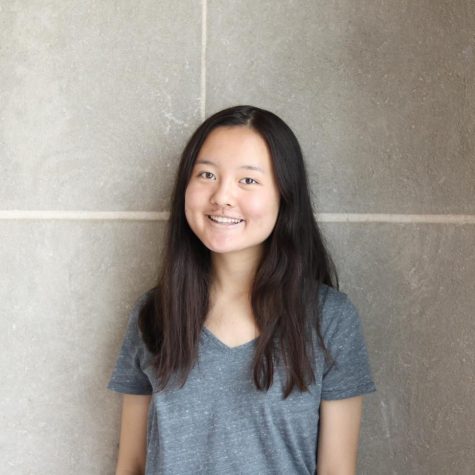 Vivian Zhao, Editor in Chief, Editorial Editor & Columnist
Vivian Zhao is a senior at Naperville Central and this is her second year on staff. Outside of CT, Vivian is a DECA President, debate captain, and runs the public health nonprofit All Hearts Count. She enjoys spending time with her friends, reading, watching Netflix & stargazing. After high school, she hopes to attend college in the east coast and pursue a career in policy or law.