Sneaker culture
Paula Recio, Social Media Manager & Staff Writer
February 19, 2020
Sneakers used to be what one would throw on when "nice shoes" were nowhere to be found, but times have changed. Sneakers have become an item of luxury. The sole purpose of sneakers is no longer only to support one's feet when walking, but also to give a stage to self-expression by using creativity, style and personality.
Sneakers have not only become a form of self-expression and art, but they have become an easy way to earn some money. Naperville Central sophomore Nicholas Badrljica started off buying his sneakers retail and then reselling them on apps such as Stock X or Goat. Badrljica takes pictures of the sneakers he wants to sell, comes up with a price lower than market sale and then puts it on the website where people can buy his shoes. He emphasizes how trustworthy these apps are when it comes to selling original, legitimate shoes.
"They are known for their trustworthiness,"Badrljica said. "They have professionals that check if the sneaker is real or fake. If it's real then they'll send it out to the person who bought it and then they'll give you your money. If it's not real then the shoes get sent back to the buyer and they get a fee or something for selling fake. For Stock X, it's the same."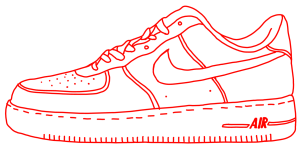 Sneaker sellers like Badrljica choose apps to sell their shoes because of how easy and convenient it is to both the seller and the buyer, as the app even takes care of the delivery process.
"Goat has a new thing, too," Badrljica said. "It's like express shipping where you can give Goat your shoe, and they'll keep it in storage and then instead of going to a two-way shipping for like 7 days or so it can go straight from Goat to the person."
There are plenty of other ways to get into the sneaker market. Sneaker Con is a huge event located in the Chicagoland area made especially for sneaker enthusiasts, where sneakers from every size and design are sold. This convention is described as "The Greatest Sneaker Show on Earth," as it is not only a mass market event but also a social gathering.
Naperville Central sophomore Brad Kuta illustrates how going to Sneaker Con is not only about buying and selling shoes, but it is a taste of a new sneaker culture that is emerging.
"Sneaker Con is a great place where people all come together to connect through shoes," Kuta said. "Whether it's buying, selling or even just looking. I enjoy looking at shoes people bring to sell, and I maybe even buy a couple pairs for myself. It's a fun experience no matter what your overall knowledge is of shoes."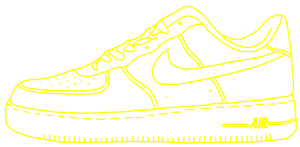 The entry fee ticket price was $25. For vendors, one must fill out a vendor's application and pay a fee. Naperville Central junior Jason Yoon collaborated with sellers to finance his vendor pass and get his own booth at the convention.
"I actually planned for Sneaker Con like three months earlier," Yoon said "I bought a vendor pass to get a table which was like $440, but I split it with three other people so it's about $100 each."
Getting a booth is not the only way to be able to sell your sneakers. Some people may even exchange shoes, which may be in the same price range or if the model of both shoes seem equal in value. As Badrljica explained, some people may just walk around the convention making bids, exchanging shoes and even selling their shoes for cash.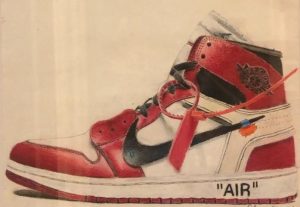 "Some people don't get a booth, so they have boxes that they're carrying around and they are betting like $250 or $100 for these shoes," Badrljica said. "Some people bring recycling bins, but it's just a ton of used shoes in good condition."
For sneaker enthusiasts or "sneakerheads," sneakers are considered the most important aspect of an outfit. Kuta explains how sneakers have impacted the fashion industry.
"The thing about sneakers is that each pair can almost tell a story," Kuta said. "They also can be looked at as the centerpiece of an outfit."
Each sneaker can be personalized, customized and even designed. Every sneaker tells a story about who you are as a human.
"I guess in a way it can also represent personality," said sneaker enthusiast and Naperville North junior Spensir Stec. "If someone is wearing something that is super bright such as red, yellow or pink, it shows that they are not afraid to bring out certain colors and create really nice, colorful outfits."
Stec believes that color coordinating is crucial in the fashion industry, especially when assembling an outfit.
"I personally like the simple colors such as white and black or greys, but I definitely have that little hint of wildness by having bright colors incorporated into my outfits," Stec said. "I love simple colors like white and black, but I also love those thick accents of yellow, pink and blue."
Sneakerheads feel there is a certain structure to an outfit, and that shoes are the most important factor.
"In my opinion, 50% of your whole outfit is the shoes," Badrljica said. "It's the shirt and the shoes. No one really looks at your pants. You can tell a lot about someone by just looking at what shoes they wear. I usually have expensive shoes and a thrifted outfit. Basically, I just have expensive shoes and I know how to coordinate colors."
Stec agrees.
"I think that sneakers are like 90% of the outfit," Stec said. "You got to build off the sneakers. I wear my sneakers everywhere. I went to a wedding in one of my favorite pairs of sneakers, a pair of Off-White Chuck Taylors, they go with everything! I try to match the colors. A lot of sneakers also come with different sets of laces, which can make a sneaker pop and definitely customize how you wear sneakers and how you do the whole fit in general. I love matching different colors. One of my favorite color matching is blue and pink, as well as yellow and pink. I love matching different colors and thinking, 'how could I style this?'"
"Sneakers are definitely art, because people are even taking blank canvases and designing their own sneakers, making their own color ways," Stec said. "People are getting degrees in art and then designing their own silhouettes of different models of sneakers."
A great example of this would be Naperville North junior Chase Burell. He loves drawing sneakers and fashion. He wishes to one day become a graphic designer or some sort of sneaker designer.
"I love drawing," Burell said. "It relaxes me, especially when I draw things that I am really passionate about, like sneakers. I love how sneakers can have such good details and really cool designs and silhouette. They challenge my drawing capabilities and turn out really cool."
As we dive our way into the 2020s and anticipate the changes this decade may bring with it, more people are embracing the fact that sneakers have moved from the gym to the runway and are impacting the fashion market, art and self-expression.