Passion for painting: nationally recognized artist
Maggie Dalton, Head Photo and art, Community Editor & columnist
December 6, 2019
Sophomore Christina Ba has a lot of hobbies and interests but only one allows her to fully tap into her creative side. Ba saw her enjoyment and continuation of painting and drawing pay off when she won 3 Scholastic Art and Writing awards.
"I was really surprised," Ba said. "I honestly didn't think my paintings were good enough to get the awards."
The Scholastic Art and Writing Awards were founded in 1923 and is the longest running initiative supporting visual and literary art achievements. Teenagers grade seven to 12 can take part in the competition. Their art and writing is judged with the same three criteria that the program has been using since it was founded. The three criteria used in judging are originality, technical skill, and emergence or personal voice or vision. Teenagers can be awarded Gold Keys, Silver Keys, Honorable Mentions, and scholarships.
Art and writing is judged at a regional level and then moves onto the national level. At the regional level, Ba as awarded a Gold Key and a Silver Key. At the national level, Ba won a Silver Key.
Ba began painting and drawing in elementary just for fun. By the time she was nine years old, she enrolled in art classes.
A wide range of mediums and materials are used in paintings and drawings. Ba has a diverse set of mediums that she works with and likes to use.
"I use a lot of stuff in my paintings and drawings I use pencils, colored pencils, pens, oil paints, watercolors and acrylic paints," Ba said.
Besides art, Ba is involved in a lot of activities, especially in school.
"I'm in DECA, speech team, Science Olympiad, cross country, and track," said Ba.
The artist that inspires her the most is her art teacher, Xiangbin Shi. Shi teaches art lessons in her home and has taught Ba for seven years.
"She has done art her whole life and is amazing at it," Ba said. "She tries her best to teach everyone as well."
Ba's preference in drawing and painting realism has helped shape her achievements in art shows.
"I've been practicing realism for a long time, and it's really my go to art form," Ba said. "It's something that I feel comfortable drawing in because of my experiences."
Realism is an art style that attempts to portray a subject matter as accurately and realistically as possible. Ba's work is realistic paintings and drawings of people.
"My favorite piece that I have ever made is probably the one I'm working on right now even though I haven't finished it," Ba said.
Even though Ba prefers realism, she reflects that art in general has changed her life.
"Honestly, I like art because drawing and painting is really fun for me and I enjoy doing it," Ba said.
In the future, Ba wants to continue her ambition in art.
"I'm going to take AP Studio Art 2D next year and then maybe minor in art in college," Ba said.
Ba notes that everyone should try art.
"It's something that has helped think more creatively in a lot of other situations and I think trying it would help others too," Ba said. "Practicing drawing and painting can just help thinking outside the box in many different situations."
About the Writer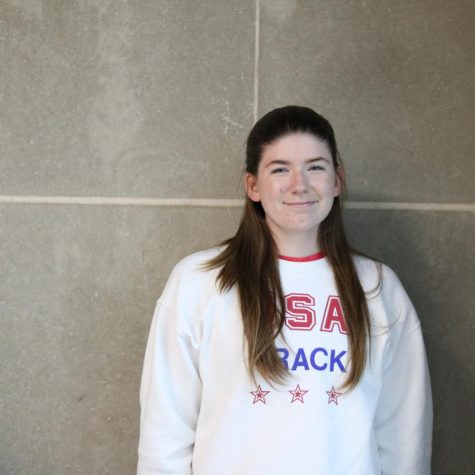 Maggie Dalton, Head Photo and Art, Community Editor & Columnist
Maggie Dalton is a senior at Naperville Central High School and Head of Photo and Art. This will be her second year on staff. She loves the friendships and community in the Central Times. Maggie runs cross country and track as well as participating in Student Advisory Council. Outside of school Maggie leads church retreats, hammocks, and plays ukulele. In the future, she hopes to become a high school Social Studies teacher.