Will Thanksgiving be gobbled up?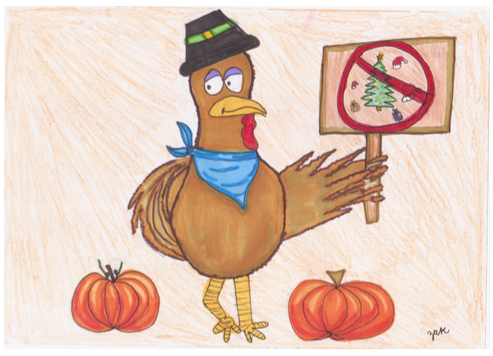 A slow-roasted turkey stuffed to satisfaction and creamy mashed potatoes with a side of steaming dark gravy await you and your family on the dining room table. According to a recent survey conducted for this article, 74% of 260 respondents will be seeing this type of meal on their Thanksgiving tables. Since the vast majority of people surveyed will be eating what seems to be a classic holiday meal with family, it is interesting to note how many Thanksgiving traditions have evolved in America and the significance of this holiday may be fading.
To most, a traditional Thanksgiving is when a family gathers around a table to feast. However, the idea of a classic Thanksgiving meal is being replaced by alternatives ranging from vacations to "Friendsgiving."
"Thanksgiving is a fun time for people to come together, especially for people who do not see family a lot," sophomore Peyton Meiring said. "I go to my friend in Ohio, but her family is my family so I do not feel that it changes my view on Thanksgiving."
Meiring lived in Ohio before moving to Naperville. While in Ohio, she became very close with a friend and as of today, she still travels to Ohio to visit her and remaining family throughout the year, but goes for Thanksgiving every other year or so. Meiring travels alone to see her friend. Although exciting for some, not everyone is willing to vacation on their weekend off and prefer other options.
Why cook?
Going to restaurants for a Thanksgiving meal has become more popular over the years. In the past decade, upscale restaurants such as Maggiano's and Cooper's Hawk have introduced Thanksgiving menus. Patrons are still able to order from the regular menu, but the Thanksgiving menu includes a three-course meal with appetizers and dessert to fill up anyone's stomach.
Kyle, who declined to provide his last name, works as a manager at the Naperville Cooper's Hawk and says that the restaurant has gained a reputation for its holiday offerings.
"As far as I can remember, this Cooper's been open on Thanksgiving since the beginning," Kyle said. "It is a really awesome [menu] because it comes with three courses. I would say that the majority of people definitely go for Thanksgiving."
Cooper's Hawk offers their own take on the holiday meal that makes it different from any other. The menu includes specialty dishes such as butternut squash soup and "Mary's potatoes". It is believed that turkey was the main course at the first Thanksgiving, hosted by pilgrims and this has remained an annual tradition. Yet, the survey showed that 37% of respondents will be having ham and 8% will be having a meatless feast, partially due to dietary restrictions and religious obligations. Both ham and meatless options are becoming quite popular, for a holiday which appears to be strictly turkey-oriented.
Friendsgiving:a new tradition
The traditional family meal has also evolved to become a meal shared among friends as a fun event or a way to avoid family strife. The origins of Friendsgiving have been traced to 2007 and is most common among millennials. The show Friends popularized the idea but Twitter users made it official through written form, according to Merriam-Webster. The growing popularity of Friendsgiving has been the subject of numerous articles in recent years that focus on individuals seeking to avoid either travel or the family focus of the holiday, or both.
In a Nov. 2014 interview with the Washington Post, Shauna Alexander detailed how when she was 25 years old, she avoided her family by hosting a Friendsgiving and lying to her parents about her reasoning for not coming home.
"There's something to be said for friends being the family you choose, as cliche as that statement is," according to Alexander. "You get to be with people you actually want to be around and aren't just obligated to be around — crazy aunts and uncles and brothers you might not get along with."
Christmas before Thanksgiving?
Food options and diverse Thanksgiving plans are not the only aspects of the holiday that have dramatically changed. Television is a major part of Americans' lives, it is where news is heard, drama spread and boredom overcome. Around the holidays, Freeform, previously known as ABC Family, has an annual 25 Days of Christmas show and movie feature that many viewers look forward to.
In 2007, due to popular ratings from 25 Days of Christmas from the previous year, ABC Family launched a companion block titled Countdown to 25 Days of Christmas. The feature began on Nov. 23, the day after Thanksgiving, according to Freeform's official website and Wikipedia page.
The Countdown to 25 Days of Christmas was pushed back to Nov. 17, 2012. After years of success, the Countdown programming in mid-November began to include some holiday specials, which previously had been reserved for 25 Days of Christmas block.
As of 2018, the countdown was renamed as Kickoff to Christmas and began as early as Nov. 1. It is clear that as the years have gone on, Christmas features have been previewed earlier and earlier in the holiday season, completely skipping over Thanksgiving.
Television is not the only place where Christmas cheer is being brought up before Thanksgiving. The Black Friday annual sale hours have encroached on the holiday and retail stores have begun to decorate for Christmas right after Halloween. Christmas decorations for both inside and outside the home have become increasingly popular. Out of 260 people surveyed, 30% think Christmas decorations should be up before Thanksgiving.
According to a Super Target employee at Jefferson Ave, Naperville, the Christmas decorations have been available for purchase since Nov. 1.
Will traditional Thanksgiving fade away?
As Thanksgiving Day is just around the corner, sleigh bells can be heard in the near distance as well. Where is the eagerness to celebrate the holiday of gratitude? Whether the holiday is celebrated at home or at a restaurant with family or with a group of friends, the simple act of sharing a meal with loved ones and expressing gratitude cannot be replaced.