Multicultural Club brings Central its first International Night
Seniors Neha Ramachandran and Enya Manil hosted the inaugural International Night on Oct. 16 in the cafeteria in conjunction with the Multicultural Club.
"We wanted to have an event that was similar to that of the International Night at River Woods, and we had a lot of fun there, so I really wanted to bring it to Central," Ramachandran said.
The event, which featured 16 different countries, including India, Greece, Spain, Ireland and many more, showed off cultural foods and facts about each country.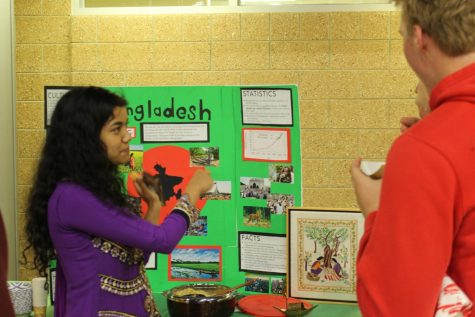 "All of the countries were awesome to learn about," senior Ed Skrabcz, who came to the event, said. "Whether it be Greece or Pakistan, each country had something really interesting and unique about them."
International Night also featured a karaoke station where songs from different cultures were played, and a ping-pong tournament run by National Honors Society.
In preparation for International Night, planning had to start early.
"We wanted to do it last year since we came up with the idea in March, but we decided not to do it then because the year was coming to an end," Ramachandran said. "So the very first day [of school] we started planning."
The idea of International Night was complemented by this year's Homecoming theme, Disney.
"When I found out the theme for Homecoming was Disney, I thought about this event would be like an evening at Epcot, so I thought it would be neat partner event," Nolan said.
"I really liked how I was able to learn more about many countries and having a taste of their cuisine," senior Cat Bradley, who represented Spain, said.
While this is the first year that this event is happening, Ramachandran hopes that it runs next year too.
"I really hope that International Night becomes a Central staple," Ramachandran said. "We live in such a divisive nature and I feel like it'd be nice to understand each other's culture."