Editorial: How many ACTs does it take to make a 'super' score?
Recently, the ACT implemented three major changes to its testing policy. Students may now take individual subject tests if they desire to improve a specific part of their score, and the test will be superscored, meaning that the ACT will combine the highest scores in each section into one. In addition, testing centers are offering the ACT on computers, allowing students to receive results in two days. The changes will take effect in September 2020.
Those changes sure seem beneficial when one considers a holistic view of standardized testing, and the Central Times welcome it … to an extent. We realize that taking the original three and a half test is exhausting for many students, so having individual unit tests would allow for students to focus more on that subject, which could help students to focus on weak areas. In general, we have to be more understanding of a student's ability to take tests under pressure. Many students are susceptible to testing anxiety stemming from the long testing hours, which can inhibit a student's ability to do his or her best on standardized testing.
Having unit tests should help to reduce testing anxiety if students can focus more on just one area that they need to improve on.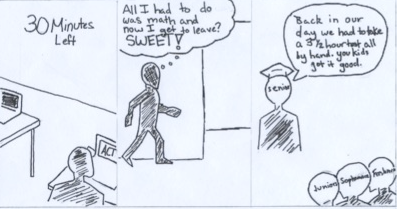 However, the CT staff believes that while on paper this change does sound positive, there are many factors that are not accounted for. Taking the tests by subject could make the ACT less competitive than the SAT. This would occur if many schools begin to place more value in the SAT, as retaking subjects in the ACT multiple times could diminish perceived value of a higher score.
This leads to another concern regarding colleges would address this change. Colleges could follow high schools and devalue the ACT as test scores could now be reflective of a more inflated score. Colleges who want to continue to accept the ACT would likely need to superscore every test, and this could change a lot of college policies that do not currently accept superscored ACT scores.
The staff also thinks that the costs should be considered in this change. While the cost may be lowered due to just taking a single subject, many students who live in a lower income family might not be able to afford more tests to improve the child's score. Thus, the whole system inherently favors students who are able to afford to take more tests, and negatively impact those who can't pay for as many retakes as they'd like, or for the prep courses needed to learn the strategies to accomplish these scores.
While there are many factors, both positive and negative, to consider with this drastic and mostly welcome change, it should be noted that none of us can't know for sure how this will go until it actually happens.
What is the value of a cobbled together ACT score? Those of us not currently applying to colleges are about to find out.