Album Review: 'Jesus is King' dethrones Kanye
West praises the Lord…and Chick-fil-A, but for what audience?
After the year-long wait and several unfulfilled release announcements, Kanye's newest project finally has come to us. The leaks and rumors muddied the waters of expectations: it'd be a gospel album, feature no swears, and possibly even set the course for the rest of West's career (if his word can ever be trusted).
It's safe to say that "Jesus is King" is an album the lord would approve of, almost exclusively to its detriment.
The opening track, "Every Hour," is a high-energy piece of choral gospel. This upbeat introduction is more than promising upon the first listen. Kanye doesn't make an appearance on the track but the cascading and rhythmic piano more than makes up for his absence. I believe the scientific terminology is that it "slaps."
It's followed by "Selah," a solemn but powerful piece that seemingly sets the tone for the album. Kanye's verses are nearly saturated with Biblical references but the instrumental is dramatic enough for it to still feel justified. The choir comes back in full force and its impact is only mirrored by the percussion that feels (ironically) like a callback to Kanye's "Yeezus" days with "Black Skinhead." If the rest of the album was "Yeezus," I'd be a happy man.
Unfortunately, this is where the good tracks end for the rest of the album. After "Selah," Kanye goes on a downward spiral of preachy, bland, awkward madness. The rest of the album can be summed up with the track "Closed on Sunday," a song thanking Chick-fil-A for being… closed on Sundays. Soul has never felt so soulless.
Overall, the album is only 26 minutes long with 11 tracks. With such a short runtime, it's unsurprising that most tracks are static and underdeveloped. Given the year-long wait for this project, to be given such little content is a disappointment, regardless of the quality of the material. Even in these mini-tracks, he isn't presenting anything particularly catchy. Most of the instrumentals are simply lame, and anything promising — "Water" comes to mind — is quickly sullied by the lyrics.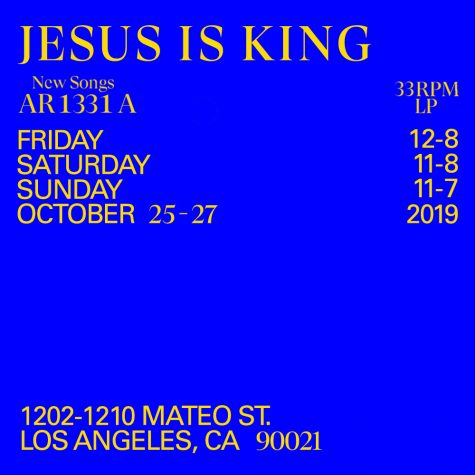 "Jesus is King" feels like it lacks an audience. I cannot figure out who it's intended for. Very few evangelicals are ever going to listen to a Kanye album, regardless of content. Christians who already listen to Kanye weren't clamoring for more Bible verses to permeate his discography. Lastly, you have atheists like myself who will inevitably be irritated by the one-dimensional, preachy lyricism. The only identifiable target audience is Ye himself.
We do need to talk about what Kanye is actually saying here, because it ranges from cringe-worthy to legitimately hilarious. Please, allow me to grace you with the opening lyrics to "Closed on Sunday" by the visionary Kanye West:
"Closed on Sunday, you my Chick-fil-A
Closed on Sunday, you my Chick-fil-A
Hold the selfies, put the 'Gram away
Get your family, y'all hold hands and pray"
Alternatively, who could forget this instant-classic verse from "Water"?
"Jesus, flow through us
Jesus, heal the bruises
Jesus, clean the music
Jesus, please use us
Jesus, please help
Jesus, please heal
Jesus, please forgive
Jesus, please reveal
Jesus, give us strength
Jesus, make us well
Jesus, help us live
Jesus, give us wealth
Jesus is our safe
Jesus is our rock
Jesus, give us grace
Jesus, keep us safe"
Lastly, this line from "On God" is the funniest lyric I've heard all year:
"Thirteenth amendment, gotta end it, that's on me"
If Kanye keeps his word that this is his permanent new direction, his popularity may soon begin to decline rapidly. Much of the Kanye fandom is understandably furious. Honestly, this album is tragic. Seeing one of the most influential artists of the 21st century and co-creators of one of this decade's most experimental albums ("Kids See Ghosts") come out just 15 months later with some of his worst music to date is, in some ways, a cause for heartbreak… and "Jesus is King" is in desperate need of some 808s.