Pro-life Club paper links spark debate about freedom of speech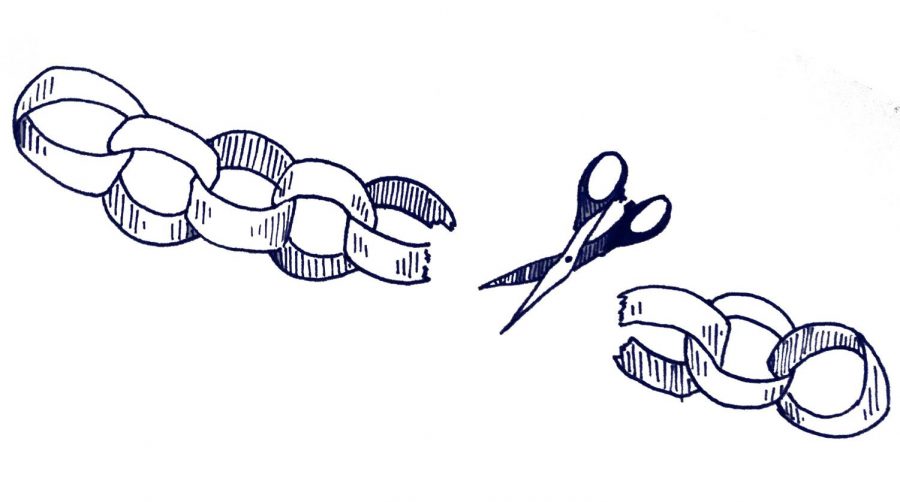 Earlier this month, Naperville Central's Pro-life Club hung pink and blue paper links in the activities hallway. Each link represented 25 abortions that statistically occurred daily. Soon after they were put up, several students tore them down. By the end of the week, the hallway was mostly bare.
The chains are put up every year and regularly face some backlash. In past years, students have signed petitions, hung their own posters and complained to Student Activities. This is the first year, however, that physical damage was done to the chains.
The First Amendment protects most speech, but students must still go through certain processes in order to make public statements at a place of education.
Lynne Nolan, dean of Student Activities, said all posters displayed on the walls must first be approved by Student Activities.
Nolan believes it is very important for students to express their opinions.
"[Sharing your opinion] is an essential part of being an American citizen, and I think that it's an important piece [that prepares] you to be an adult and a citizen," Nolan said.
Every club has the opportunity to share their perspectives, which is protected by the First Amendment. However, student speech must be backed by a legitimate club, which anyone can start with a sponsor. The club must then make their request through the appropriate channels such as Student Activities.
"If you want to make a statement, you can make a statement, but you have to follow the same process that [Pro-life Club] had to follow in order to make that statement," Nolan said.
Nolan emphasized the difference between sharing one's opinion and disrespecting another's.
"The First Amendment protects speech, it doesn't protect vandalization," Nolan said. "I want to teach people what the civic side of it is, outside of whether or not you agree or disagree."
The Friday prior to the chains being put up, another group of students practiced their freedom of speech by participating in the Day of Silence sponsored by the Gender and Sexuality Alliance Network (GASAN). Students who participated in the Day of Silence wore a slip of paper that explained their choice to be silent in memory of those who have been silenced because of their sexuality.
Students were not allowed to use this freedom to disrupt the learning environment. If a class required discussion, a student was obligated to participate.
Senior Riley Doyle, a member of GASAN, participated in the Day of Silence.
"I feel like you should have the right to express yourself, especially on issues that you find really important," Doyle said.
While Doyle does not personally agree with the statements made by the Pro-life Club, she appreciated the manner in which they made their display.
"I wouldn't want my stuff taken down because that stuff is important to us, [and] I'm sure they wouldn't want their stuff taken down, it's just a matter of respect," Doyle said.
Senior Emilie Mineo is a member of Pro-life Club and helped hang up the links with other members after school.
"It made me really upset because we put a lot of work just trying to bring awareness to the school, and people just disrespected us," Mineo said.
Randall Smith, the sponsor of Pro-life Club, found it interesting to see the contrast between reactions to the Day of Silence and the display of the links.
"I do think on a day where there seemed to be a lot of tolerance, it was an interesting juxtaposition of intolerance," Smith said. "Tolerance is supposed to be of opinions that are trendy and hip, or that the public opinion supports, but it's also supposed to be of those divergent views within the bounds of law and done in the right way."
Mineo believes that practicing tolerance is extremely important in today's political climate.
"Especially in this time now, there's a lot of fighting," Mineo said. "It's important to love each other and respect each other."
The most important thing to Doyle is choosing what battles to fight.
"You have to decide when you're gonna speak up, and I don't think that that's the right way to do it," Doyle said."Since there's other ways you can seem better, by just using your words."
About the Writer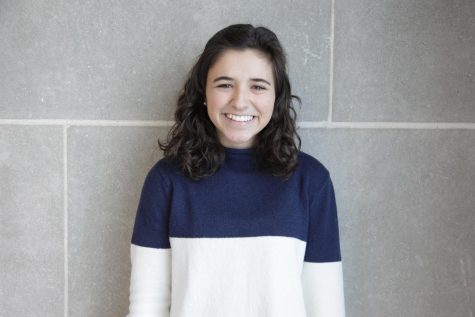 Marina McCormack, Staff Writer
Marina McCormack is a senior and is excited to start her first year as a Staff Writer on Central Times. Outside of Central Times, Marina runs cross country, serves as the Secretary of Senior Class Council, and on the executive board for National Honors Society. She is interested in attending University of Notre Dame, Loyola University, or the University of North Carolina at Chapel Hill.